Former Arsenal, Tottenham and Manchester City forward Emmanuel Adebayor is at a loss as to why he has such a bad reputation in England and has told of his desire to return to the Premier League.
The 32-year-old, who also had spells with Crystal Palace and Real Madrid, believes the majority of his past team-mates "would say I'm an amazing guy", and is desperate to "hit the top level again", whether that be in the Premier League or elsewhere.
"I have a bad reputation in England and I don't know why," Adebayor told The Guardian. "Maybe it's something that has just followed me. But one thing I always say is that 90% of the people I've played with would say I'm an amazing guy, a great teammate.
"Other people, those who work on the gate at every stadium I've played at, will tell you I am a humble guy and a nice person. But the press will say what they want, and in my career I've been unfortunate enough to have a lot of negativity."
"You know me well enough – I love England, love the Premier League and want to find a way to get back there," he says. "I want to hit the top level again, that's for sure. If not, I just want to play football and have fun, so if I get an offer somewhere then I'll go."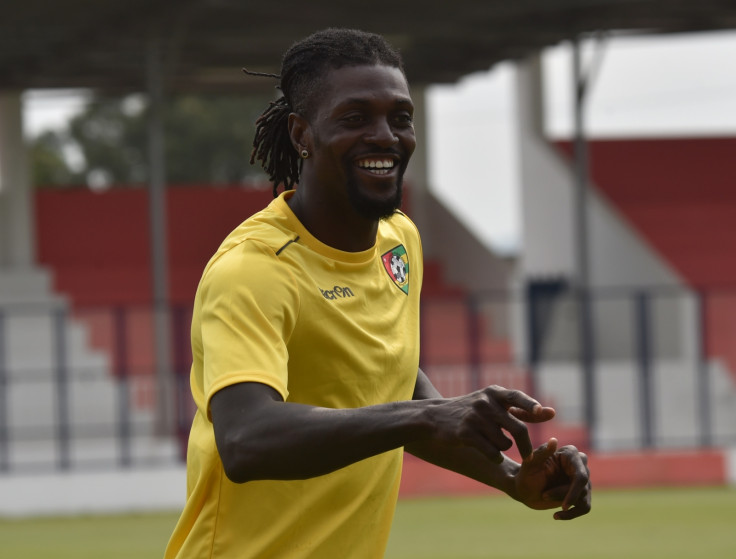 Adebayor scored 24 goals for Arsenal as they were pipped to the league title by Manchester United in 2008 but does not think his former club are any closer to becoming champions of England's top-flight this season. The former Metz starlet seemed to suggest that Arsene Wenger's men are over-reliant on Mesut Ozil and Alexis Sanchez.
"Arsenal have a good team but if Sánchez gets injured I don't know who they've got. If you look at Chelsea, when Hazard gets injured they've got Willian; if Willian gets injured they can still play Moses further forward. Arsenal's problem is that today they are just Özil and Sánchez. If one of them gets injured, it is a problem." said Adebayor.
Despite departing White Hart Lane in somewhat acrimonious circumstances, Adebayor spoke highly of Tottenham boss Mauricio Pochettino and revealed he was still in contact with the Argentine. The controversial forward admitted that he does not know how Spurs fans feel about him, but wants them to remember that he "made them happy".
I'm happy for Pochettino and how they are doing," he added. "Things didn't work out between us but he is a great manager and we still have a good relationship despite what people might think. We still keep in touch – he is a good guy and has changed Tottenham. I don't know whether the fans there hate me or love me but they should remember one thing, which is that there was a time when I scored goals for them and made them happy."