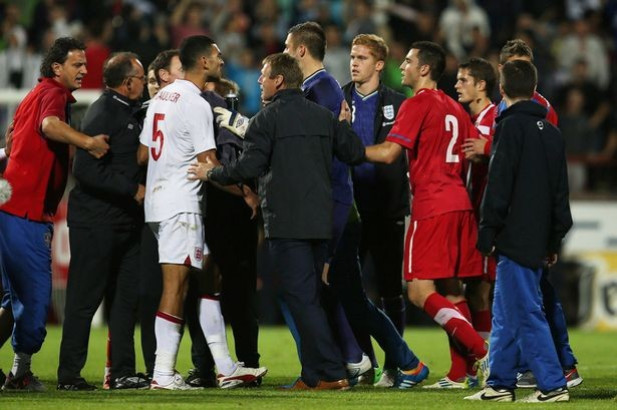 The UEFA Control and Disciplinary Body has handed down a number of bans to England and Serbia players for their part in the incident that occurred during the Under-21 European Championship play-off second-leg match in Krusevac.
England managed to qualify for the finals of the competition by beating Serbia 2-0 on aggregate, but the second-leg was marred by ugly scenes as players and coaches clashed in a mass brawl.
Sunderland defender Danny Rose was sent off towards the end of the game but claimed that he had been subjected to racists chants from the Sebian supporters throughout the game.
UEFA has reached a decision on the punishment for both nations as the Football Association of Serbia was fined €80,000for the improper conduct of its supporters during and at the end of the match, as well as for the improper conduct of the Serbia players.
The Serbian Under-21 national team will also be forced to play their next UEFA home match behind closed doors, while assistant coach Predrag Katić and fitness coach Andreja Milunović have been banned from all football-related activities for two years, the final six months of which are suspended for a probationary period of three years.
There was also a number of bans handed out to players from each country as Goran Caušić received a four match ban, while Ognjen Mudrinski and Filip Malbašić will miss three games. Nikola Ninković received the most lenient ruling as he was handed a two match suspension; with all bans applying to the next UEFA national team competition matches for which the players would be eligible.
UEFA gave the English FA a warning for improper conduct by its team as they received more than five cautions on the night but there were more severe punishments for two England players.
Spurs defender Steven Caulker has received a two-match while Blackpool winger Thomas Ince has a one game suspension. Both players will miss the Italy game on June 5 2013 and Caulker will also be banned for the match against Norway on June 8 2013.
England and Serbia can both now appeal the decision but it must be within three days.