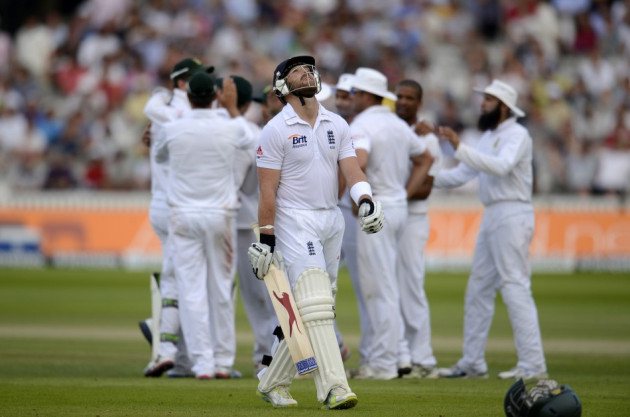 This time last year, England were celebrating their ascent to the top of the world rankings after winning the third test against India. They would go on to take the series 4-0, prompting pundits to talk excitedly of a golden age of English supremacy.
Twelve months on, England are battered, bruised and beaten. Their ranking, their spirit, their strategy and their individual reputations lie in tatters - all broken on South Africa's relentless, remorseless wheel.
Alistair Cook, slayer of so many bowlers over the past two years, is fiddling and fumbling outside off stump once again. Ian Bell, having averaged over 100 in 2010, appears once more to be a rich man's Mark Ramprakash - capable of caressing weak attacks around the ground at will, but unable to cope when the pace heats up. And Stuart Broad looks plain innocuous, a slightly sleeker version of the floaty medium-pacers who litter the English domestic scene.
England's rise to the summit of world cricket was predicated on discipline and diligence. On bowling dry, hammering length, playing the percentages and all manner of similarly vapid aphorisms. But against South Africa they ran into a superior version of themselves - a side which could match them for concentration and preparation, and then some.
South Africa are the ultimate triumph of collective competence over individual flair. Led by their teak-tough captain, Graeme Smith, the green machine apply the basic disciplines with the utmost accuracy, backed up by stunning athleticism. Smith has subsumed his own ego into the fabric of his team, and they in turn have come to project his indomitable spirit.
In racking up 637 for 2 in the first test at The Oval, South Africa did to England what to England did to Australia when bludgeoning 517 for 1 at the start of the 2010 Ashes series. They left the bowlers impotent and exhausted, and placed an iron grip on the entire series. England's tried-and-tested gameplan of bowling outside off stump, and waiting for mistakes, had been exposed; the hosts had no Plan B.
Then it was the turn of South Africa's sole stage-stealing superstar, Dale Steyn, to come to the fore. Steyn blew away the English batsman in their second innings at The Oval, exposing technical flaws which had never before been tested with such sustained ferocity. Batsmen who had gorged on the West Indies' erratic bowling now had nothing to hit, and, like the bowlers before them, were left groping in blind panic.
Hero to villain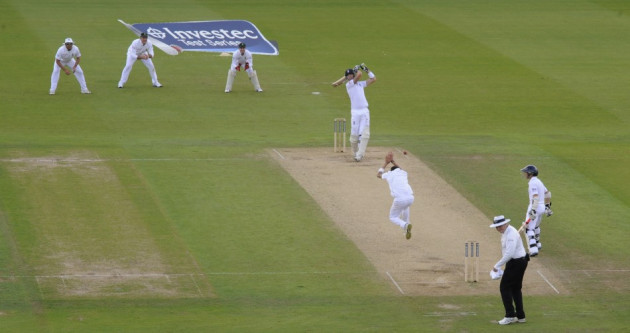 In the wake of Steyn's heroics, England needed a hero of their own - someone who could produce the magic to counter the South African's unerring accuracy. As the series neared its halfway point, it appeared the hero had arrived; in front of a packed Saturday crowd at Headingley, with the English innings teetering, Kevin Pietersen arrived in the nick of time and proceeded to crunch, thwack and smear the visitors to all parts. If Batman could bat, he'd have played like Pietersen that day.
But then came the texts. After the Headingley rescue act, it emerged that Pietersen had been sending derogatory messages about his own teammates to his South African mates - including Steyn, the man he had repelled so gloriously at Headingley. England's fans had always known Pietersen was South African by birth, but could never have imagined him capable of such treason. In exposing the texts, the newspapers had ripped off Batman's mask and found Two-Face glowering underneath.
With Pietersen dropped for the final test, England were never likely to level the series and preserve their position at the top of the rankings. That they came so close to victory on the final day was due to some brave, bonkers hitting from Matt Prior and Graeme Swann; had the win been achieved, it would have been a triumph for reckless improvisation rather than the smooth, meticulous battleplan mapped out by Andy Flower and his coaching staff before the series began.
But England's brain trust would be foolish to dismiss the events of that last day at Lord's as a whacky slog-fest, borne of exceptional circumstances. As Pietersen had done at Headingley, Swann and Prior showed that you can rattle even the best opponents by ripping up the playbook and shooting from the hip. England's march up the rankings may have been based on team spirit and organisation, but sometimes, when facing the sternest tests, a little individual flair is required.
Now that Pietersen, one of the few English players capable of such off-the-cuff brilliance, appears to have cast himself into exile, Flower and his team must scour the land for young players with a similar talent for the unexpected. Bowlers who can blast out batting line-ups on flat tracks, and batsman capable not only of wearing down opposition attacks, but also tearing them apart. And the search for a mystery spinner, capable of beating the bat on both sides, must begin afresh.
England's tour to India this summer presents a golden opportunity to freshen up the spin department. The selectors are almost certain to take three spinners, so there is space for a talented tyro alongside the established pair of Swann and Monty Panesar. The selectors have plenty of leg-spinners to choose from, such as Yorkshire's Adil Rashid and Durham's Scott Braithwaite, and now is the ideal time to throw one of them in. A magical mystery man must tour.
As well as bringing new faces into the squad, the selectors should look at the configuration of the test XI. Flower is a staunch disciple of four-man bowling attacks, but he must have envied the extra all-round option Jacques Kallis offers South Africa. England don't possess an all-rounder of Kallis's class [in fact few sides in history have ever possessed a player as good], but the men who pick the team should still have a long look at the all-rounders on the county circuit. Or, alternatively, they could think about promoting Prior to number six, and slotting Bresnan back into the side beneath him, to ensure Andrew Strauss never runs out of options in the field.
Perhaps most importantly, the brains behind English cricket must consider the players' workload. England have played that 11 tests, 12 one day internationals and 4 T20 matches since January; that equates to 71 days of cricket in seven months. Broad, a key man in all three formats, appears exhausted, while Bresnan, Bell and Trott seem significantly diminished. Kevin Pietersen may have been wrong on many counts this summer, but, in demanding that the playing schedule be reassessed, he struck a rare note of sense.
England don't face South Africa in the test arena again until December 2015. By that time Kallis will have retired, while Smith, Steyn and wicketkeeper AB De Villiers will all be deep into their thirties. If England have learned the right lessons from their defeat this summer, they could turn the tables when they face the green army next time around.