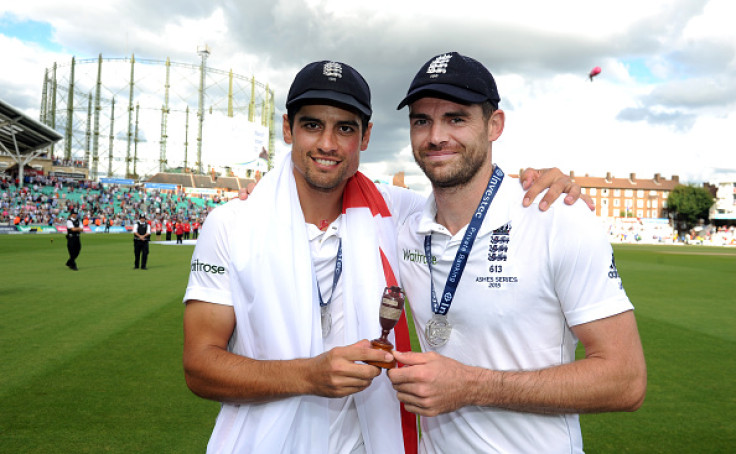 England Test captain Alastair Cook is buoyed by the return of key pacer James Anderson for the second Test against Pakistan at Old Trafford in Manchester. However, the skipper was not too happy by the way his absence from the first Test was reported and said that it was "blown out of proportion".
Anderson is England's leading wicket-taker in Test cricket with 454 wickets and was rested for the first Test at Lord's due to a shoulder injury he sustained during the Sri Lanka series earlier this summer. The 33-year-old pacer was seen bowling in the nets ahead of the first Test, which led to claims that he was fit for the clash. However, the selectors did not include him in the playing XI even as both Cook and head coach Trevor Bayliss wanted him in the line-up.
With England going on to suffer their first loss against Pakistan at Lord's in 20 years, certain sections of the media and former players criticised the selectors, with some asking for head of the committee, James Whitaker, to resign.
"A lot has been blown out of proportion. Unfortunately, we didn't play the greatest game of cricket. So then people start jumping on things which were less important, but became more so because we lost. If we'd played really good cricket, and won the game- and the 11 guys were certainly capable of that- then that story wouldn't be blown up like it has been", Cook said, as quoted by Cricbuzz.
"It's happened. It was a slightly messy affair, no one intended it to be like that and we've got to move on, and play better cricket. It's been a bit of a sideshow- an unimportant sideshow, really," he added.
England will look to square the series at Old Trafford on 22 July after losing the first Test by 75 runs. Along with Anderson, all-rounder Ben Stokes and leg-spinner Adil Rashid have been added to the squad, while fast bowlers Jake Ball and Steve Fin have been released from the 14-member squad.