England's last remaining golden eagle feared to have died in Lake District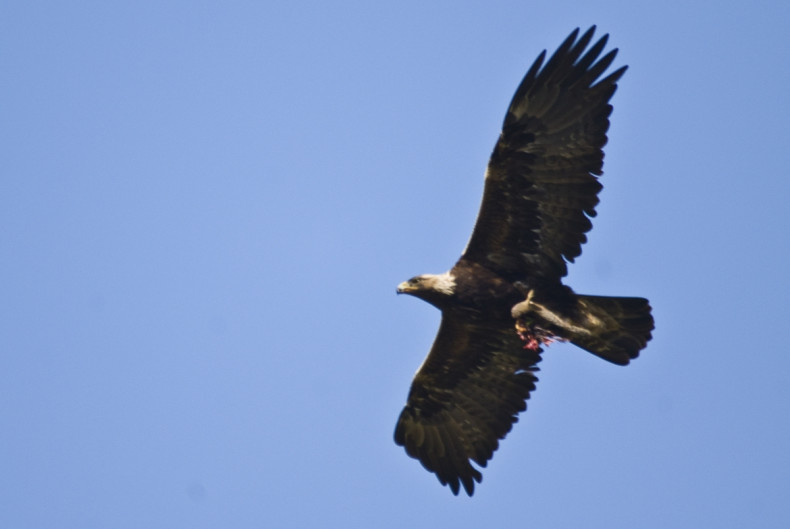 England's last remaining golden eagle is feared to have died, having not been seen in the skies above the Lake District for several weeks. The male bird, which was not officially named but known locally as Eddy, became the last of its type in 2004 when its partner died. It is thought to be around 20 years of age, relatively old for a golden eagle, and is thought to have died of natural causes.
The eagle was a commonplace sight at Riggindale, near Haweswater in Cumbria, and for many birdwatchers was the only golden eagle they had ever seen. Staff at a local RSPB centre became concerned when they failed to spot the bird, which would usually be constructing a nest and attempting to attract a female at this time of year.
"When the eagle didn't appear last month we thought there was a chance he might be hunting in a nearby valley but over the past few weeks we've been gradually losing hope," said RSPB Haweswater site manager Lee Schofield. "We will probably never find out what happened to him but as he was… an advanced age for an eagle, it's quite possible that he died of natural causes."
Golden eagles, once common in England, became extinct in the 1850s, mostly killed by farmers because of their threat to livestock. The raptor, with a huge two-metre wingspan, is still found across northern Europe, Russia and North America. There are thought to be some 440 nesting pairs in the Scottish Highlands, but the RSPB believe it will be a long time before they can be reintroduced to England.
"At the moment the Lake District isn't particularly attractive to golden eagles as there is a shortage of suitable habitat and food," said Schofield. "By restoring a range of natural habitats at Haweswater, we hope this will lead to an increase in wildlife including birds and small mammals, which would provide a sustainable food source for golden eagles."