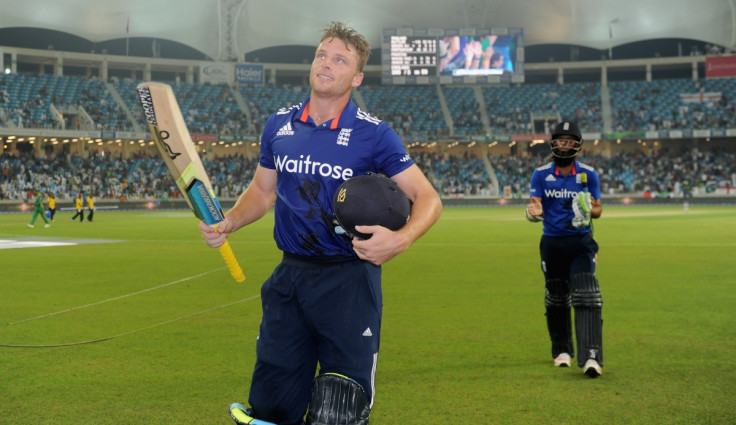 England wicket-keeper Jos Buttler has insisted that Eoin Morgan's decision to skip their tour of Bangladesh will not affect the team and that Morgan remains "very much" the captain of the Three Lions side.
Buttler who was named skipper of England's One Day International (ODI) in Morgan's absence has confirmed he will happily hand over the captaincy post the Bangladesh series. The 26-year-old has come out in praise of Morgan, claiming that he (Morgan) is the main reason behind England's improvements in the shorter formats of the game and that the team respects his personal decision to stay away from Bangladesh.
"This definitely won't divide the dressing room. We're a tight-knit group of guys and we will stay that way. Everyone's very good friends in that set-up and we want it to remain that way. We wont let anything like this come between us in the side", Buttler said as quoted by ESPNCricinfo.
"Eoin Morgan remains captain of the ODI side. I fully expect he will take up the reigns again when he is available. He's very much the captain of the team. We've made fantastic progress under him. He's very much the captain of the team in my eyes."
Morgan along with opener Alex Hales are the only members of England's squad who have withdrawn from the upcoming tour of Bangladesh. This decision by the duo has attracted criticism from various quarters, with former captains Nasser Hussain and Michael Vaughan expressing their unhappiness with the reasoning for not travelling to the sub-continent nation.
Buttler is surprised by all the criticism, especially those relating to Morgan.
"There has been some unfair criticism. Cricket is not the be all and end all. He has made the decision that is right for him and it is not one that he has taken lightly. He has come to one which he is comfortable with and people should respect that", the keeper-batsman added.
England are scheduled to play three ODIs and Test matches next month, with the squad set to be announced on Friday (16 September).