Teodoro Obiang Nguema Mbasogo, the President of oil-rich Equatorial Guinea, has conferred a national honour on Nigeria's leader Muhammadu Buhari for his "personal integrity and exemplary leadership". The award comes in the wake of Buhari's official two-day visit to Guinea.
As the two leaders held talks on maritime security, IBTimes UK looked at the political career of Mbasogo, who is Africa's longest-serving leader. Mbasogo, 73, was born in the town of Acoacán in 1949. He attended a military academy in Spain and became a lieutenant in Guinea while his uncle Francisco Macías Nguema served as president of the African nation.
In 1979, Mbasogo overthrew his uncle after the latter had allegedly plotted to kill some of his family members, including Mbasogo 's brother. Following a bloody coup, Mbasogo became the second president of Guinea, a post he has held ever since.
Execution of Mbasogo's uncle
Mbasogo placed his uncle on trial for alleged crimes committed during his presidency, including the genocide of the indigenous Bubi people, mass murder and embezzlement of funds. Nguema was executed by firing squad in September 1979. After assuming office, Mbasogo implemented some reforms including granting amnesty to political prisoners and reopening religious sites his uncle had closed. The country adopted a new constitution in 1982.
Since taking the mantle of the nation, Mbasogo has won all the presidential elections, sometimes as the sole candidate. On at least two occasions, in 2002 and 2009, he won more than 97% of the votes. In 2011, he was appointed as chairperson of the African Union , a position he held for one year.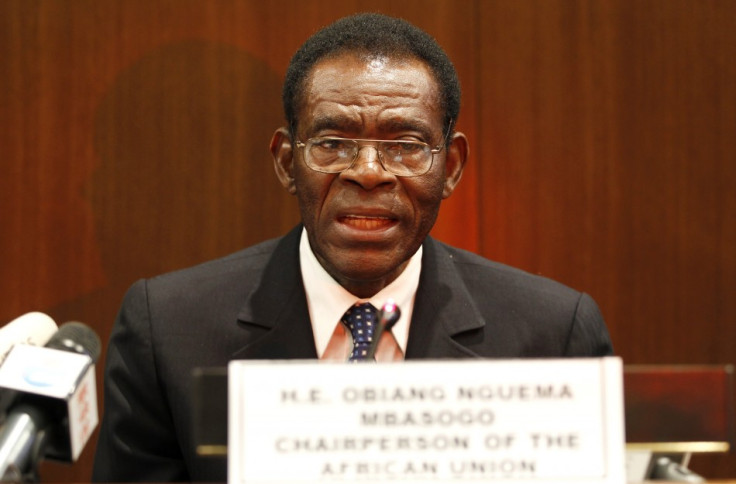 Human rights abuses and corruption
Although he tried to relax some of his uncle's harsh policies, Mbasogo has been described as one of Africa's worst dictators. His leadership is considered by observers as corrupt and repressive while disappearances, torture and extra-judicial executions are widespread. According to Human Rights Watch, corruption and repression is rampant in the country, where the majority of citizens live in poverty.
In 2003, a presidential aide announced during a show on a state radio that the leader was "in permanent contact with the Almighty". The aide said: "He can decide to kill without anyone calling him to account and without going to hell because it is God himself, with whom he is in permanent contact, and who gives him this strength."
Mbasogo , along with other government officials, have been accused of mismanaging funds and pillaging state coffers to buy houses and cars in France. These allegations led a French judge to launch an investigation into Mbasogo and two other African leaders in 2009.
Earlier in January, Mbasogo's government informed France it wished to enter arbitration to settle the case, which has become know as "Ill Gotten Gains". Obiang's eldest son and vice-president of Guinea, Teodoro Nguema Obiang Mangue – known as "Teodorin" – has also been accused of using embezzled state funds to fund his lavish lifestyle.
In 2011, the US Justice Department tried to seize $70 million (£44m) of Teodorin's US assets, arguing they were inconsistent with the salary he earned. One year later, French authorities seized a mansion belonging to Teodorin in Paris and issued an arrest warrant for the president's son on money-laundering charges. In 2014, Teodorin agreed to forfeit his Malibu mansion, a Ferrari and some items in his Michael Jackson collection all together valued at $34m.