Eric Dier slams Ander Herrera for off-the-ball elbow during England's draw against Spain
England drew 2-2 with Spain in an international friendly at Wembley on 15 November.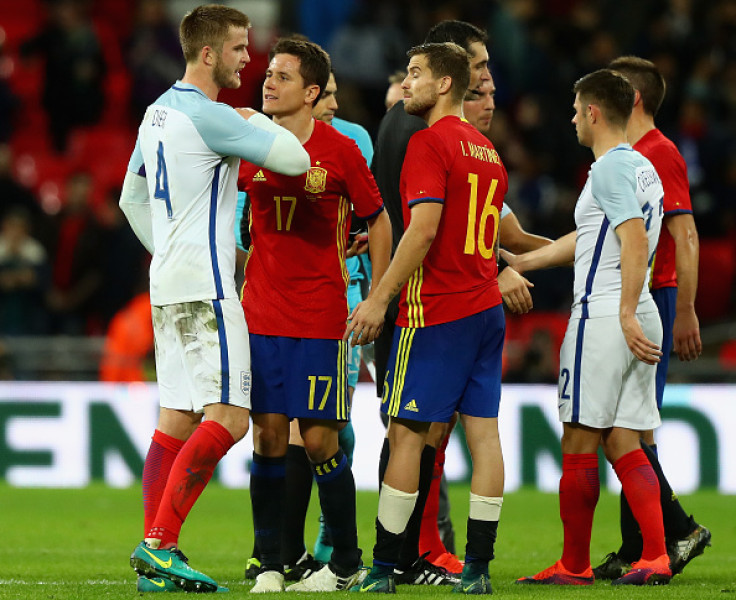 Eric Dier was clearly annoyed with Ander Herrera after England's 2-2 draw against Spain with the midfielder accusing the Manchester United star for elbowing him off the ball during the game. The Tottenham Hotspur star made it clear that he was not ready to accept an apology with the beef set to extend to when the two teams meet on 11 December at Old Trafford.
The Spaniard made contact with the Englishman with five minutes left on the clock and the argument between the two players continued after the game, with reports suggesting that the latter confronted Herrera in the tunnel where he denied any wrongdoing.
"I think it's pretty clear what he did and I can feel it on my cheek now," the Spurs midfielder said after the game at Wembley, as quoted by the Guardian.
"I've made a pass and it was a long time afterwards [that] he's elbowed me in the face, and I just can't see why. For me, it's just ridiculous. So I know what he did, and I don't like that kind of stuff. I don't mind people kicking each other at times and stuff, but that's just dirty and not needed.
"I don't need him to apologise. I'll see him soon [referring to Tottenham's upcoming game at Old Trafford]... These things happen. But I don't know why he did it, to be honest. That's why I was angry. It was just strange and it's not nice," he added.
The match between the two nations was anything but smooth and was disrupted by a number of fouls from both teams – 17 for England and 14 for Spain with three bookings a piece. The Three Lions looked good for the win, and were leading 2-0 with 10 minutes to go. However former Liverpool striker Iago Aspas, who was called up in the absence of Diego Costa, scored the first, while Isco scored with the last kick of the game to deny Gareth Southgate's team a famous win.
© Copyright IBTimes 2023. All rights reserved.