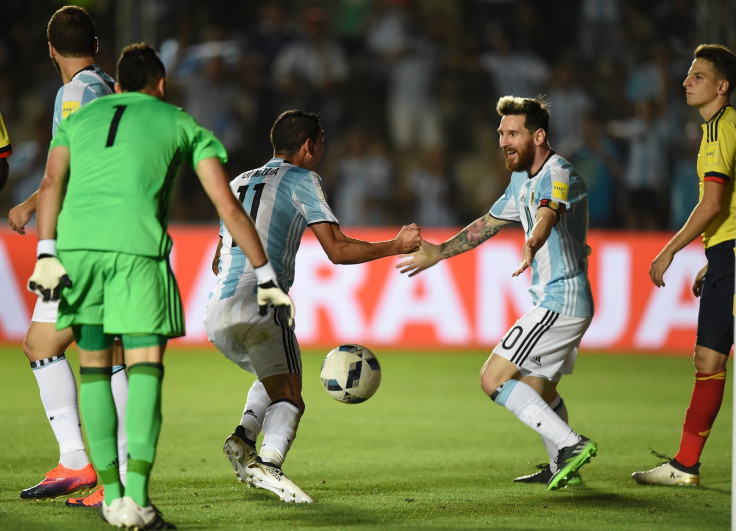 Lionel Messi has announced the Argentina national team won't talk to the press any more following the serious accusations made towards some members of the squad amid their recent poor form. The Barcelona star gave a press conference alongside the rest of his teammates to announce the media boycott after leading his country to an impressive 3-0 victory in their World Cup qualifier over Colombia.
Argentina have been in turmoil since the defeat to Chile in the 2016 Copa America Centenario last summer. Messi even announced his retirement from international football following that loss only to change his mind two months later in order to help his side to reach the World Cup 2018.
However, the Barcelona star and his teammates were heavily criticised last week after suffering a major setback in their hopes to qualify for the World Cup following an humiliating 3-0 defeat to Brazil. Furthermore, a reporter allegedly accused Messi's teammate Ezequiel Lavezzi of smoking marijuana after a training session.
The Barcelona star, as captain of Argentina, decided to gave a press conference following their victory over Colombia to announce the ban.
"We wanted to say this in front of everyone and not release a statement, because we don't want to hide from anyone. We are here to let you know that we have made the decision not to talk to the press anymore, obviously you know why" Messi said.
"There were a lot of accusations, a lot of disrespect, and the accusations that were made towards el Pocho (Lavezzi) were very serious. We regret that it has to be this way but we have no other choice. We know that most of you guys don't play that game of disrespect. We can be criticised if we lose, or win, or if we play well or badly but get into one's personal life is very grave. If we don't stop it today, we'll never stop it. It's very serious and that's why we are here."
Meanwhile, Messi also lead his national team on the pitch to secure a much needed victory. The Barcelona star gave Argentina the lead with a fantastic free-kick before assisting Lucas Pratto and Angel Di Maria for the other goals of the game in order to make amends for the 3-0 defeat to Brazil.
The victory saw Argentina moving to fifth position in the South America group ahead of Colombia themselves. The top four qualify straight into the final while Argentina will not get a place in an intercontinental play-off.