Google's executive chairman has just come off stage at the company's Big Tent event outside London where he was speaking about Google's anti-trust issues, connecting the next five billion, privacy, and the company's recent Motorola acquisition.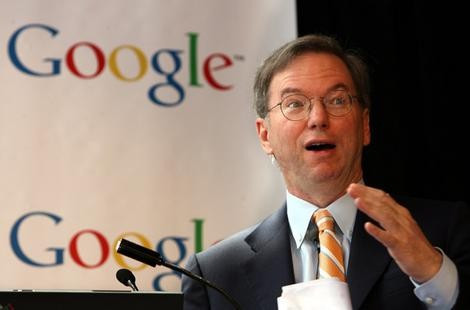 Eric Schmidt, executive chairman of Google, faced a number of questions about the the European Competition Commissioner's anti-trust investigation into the online giant, following a letter being sent to Google earlier this week.
In the letter, Google was given weeks to find remedies for problems outlined in the letter. The letter is the first time the Commissioner has detailed the four areas of concern. The concerns outlined by the commissioner, Joaquin Almunia, include the manipulation of search results, the observance of copyright law and restrictions written into Google's advertising contracts.
Schmidt told the Big Tent audience that Google had received the letter on Monday and was sending a response to the Commissioner today, though Schmidt had spoke to him personally on the phone this week.
"Disagree in general"
Schmidt said Google "disagrees in general" about the complaints, but he was not going to speculate about the specifics of the complaints, as Google doesn't yet know what laws it has broken.
"We are not aware of anything we have done wrong. We agreed to have a series of meetings [with the Commissioner], we think we are pretty OK, we don't want to pre-judge [the complaints] until we hear from the EU."
The main topic of the talk was about connecting the next 5 billion people in the world. Schmidt said that there are currently two billion people with access to the internet, one billion of which own smartphones. "In the next five to 10 years it is reasonable to expect another five billion people will be connected."
The next five billion
The vast majority of these, according to Schmidt, will be connected through inexpensive smartphones, and "they will love their smartphones more than you do. They will program in their own languages and you will hear from them."
The rise of these connected billions will lead to problems for governments which are not democratic and Schmidt highlighted the Arab Spring as one example of how social media in the hands of motivated citizens was able to subvert the credibility of governments.
Spekaing about the attempt to censor the internet, Schmidt said that China is "running that experiment now" but he says that sites like Weibo, along with connected citizens are putting pressure on governments by shaming them into revealing details they may not want to reveal. "Governments, that are not democracies, are susceptible to shame and that is a powerful tool."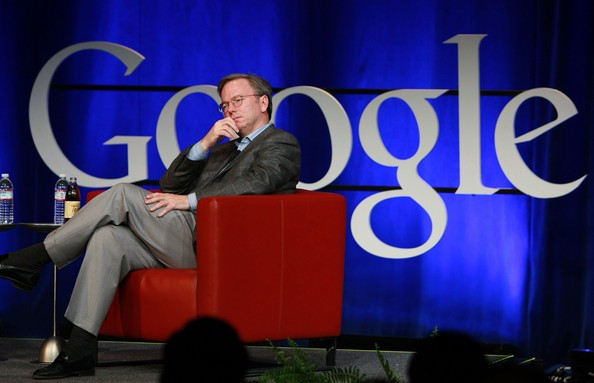 MacTaggart
Last year, Schmidt hit the headlines when he gave the MacTaggart Lecture at the Edinburgh Television Festival. In his keynote address he said the UK was "throwing away its computer heritage" which was seen as a direct attack on the government and its education policies.
Earlier at the Big Tent event Minister of State for Universities, MP David Willetts cited this speech as the push which brought this problem to the attention of the country and more specifically, the government. When asked if he though a lot had changed in the 12 months since that lecture,Schmidt said that while the computer science curriculum had indeed changed, a lot more needs to done.
Censorship and Privacy

Earlier in the day, a debate took place about censorship and specifically about protecting children accessing and viewing pornography online.
When asked about his views on the matter, Schmidt said that each country makes a different decision. "What I worry about is that this [legislating for censorship] is often a slippery slope. It needs to be technically implementable, precise. If you are going to make a law, make a law that works."
Asked by interviewer, and Channel 4 news anchor, Krishnan Guru-Murthy, about any changes in online privacy he had noticed over the past year, Schmidt said: "I haven't seen much change [in the last 12 months]. Privacy is going to be a concern forever. Once [personal] information is published it can never be taken back."
He added that a person's identify gets "defined more and more by others over your life time," and that only a new born child can really define themselves completely.
In terms of Google's approach, Schmidt said it was open and that anyone has access to the information stored about them: "You have the right to go into Google [Dashboard] and change the information we have on you."
While Schmidt says the consensus seems to be that the younger generation doesn't care about privacy, when he has spoken to them the reality is very different, adding that the future of online privacy is "yet to be written."
Another issue which people need to be aware of is that once published online, there is no delete button and this is a significant issue for society. He highlighted the example of someone wrongly found guilty of a crime. Previously all those records would have been sealed and inaccessible to the public, but now the initial reports will remain online forever, even when the person has been cleared of the crime.
Asked if Google is going to change the open way it accepts apps to Google Play, he said: "We are not going to police apps ahead of time. [It is] better to have a more open structure and when people find something they don't like, we will do something about it. This will probably continue to be the way [we operate]. It is a reactive model."
Motorola acquisition and Google+
Google's acquisition of Motorola Mobility for £7.9bn was approved by China last week and the deal was finally completed this week and while most reports suggest the acquisition was motivate by Motorola's huge patent cache, Schmidt gave another reason for the company's biggest acquisition to date. "We wanted to have a stake in a hardware business and Motorola was 100 percent Android."
Asked about the future plans for Motorola, Schmidt said: "More investment in Motorola products under the Motorola brand, which will be run as a separate division."
Google launched its social network, Google+ in the last year and lots of reports in the past couple of months have suggested that Google has been disappointed with the uptake of the service. Schmidt said that the problem with these rumours was they were based on internal goals which don't exist: "We don't have internal goals."
Schmidt said the social network was "doing well" and had well over 150 million users. Google+ was "doing better than I expected" considering how late it was to market compared to the likes of Facebook.
He added that comparing the service to Facebook was not a good idea, but said that if Google+ was as successful as Facebook over a similar time period, that would be a success.
What is the future of Google?
When asked what the future holds for Google, Schmidt said that it was a matter of "going from syntax to symantics." It is a case of going from a list of ten results you seen returned now to a search query, to an insightful answer to whatever question is asked of Google.
Schmidt said Google can currently answer questions about facts, such as what is the capital of Spain or who is the UK prime minister, but it cannot really answer general questions.