Eritrea's grassroots Freedom Friday (Arbi Harnet) movement has released a video smuggled out of the secretive African country showing residents of the capital Asmara reading posters calling for mass protests.
The footage shows that Freedom Friday, a movement that draws inspiration from the Arab revolutions in Egypt and Tunisia, has established roots inside the so-called North Korea of Africa.
"AH team Asmara recorded one of the 20 posters on display and smuggled the clip out, to encourage their diaspora counterparts and show the world that the resistance inside the country is actually not as hopeless as many believe it to be," reads a statement on YouTube.
The video was shot in Asmara's main boulevard, Godena Harnet (Freedom Avenue). The posters feature Idris Abuare, a disabled freedom fighter "who went missing in 2002 after he asked questions about the government's crackdown on private media and ministers", according to Meron Estefanos, a human rights activist and presenter with the Sweden-based Radio Erena, which broadcasts in Eritrea and around the world.
Eritrea is considered one of the continent's most opaque countries. National elections have not been held in the Horn of Africa country since it gained independence in 1993. Torture, arbitrary detention and severe restrictions on freedom of expression remain routine.
President Isaias Afwerki does not tolerate any independent media, the internet is strictly controlled and Reporters without Borders recently named it 179th out of 179 countries for freedom of expression.
It is illegal to criticise the government, prompting the Eritrean diaspora to set up a campaign to reverse the Arab-style call to take to the streets every Friday by emptying the streets in protest.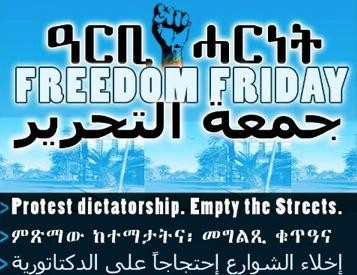 "We made phone calls from diaspora to Eritrea," Meron Estefanos told IBTimes UK. "We have a phone catalogue and called random numbers every Friday, telling them to stay at home and think about problems in our country."
The phone calls "give them [Eritreans within the country] an opportunity to protest without risking too much", according to Freedom Friday's coordinator in the UK Selam Kidane.
The activists turned to a computerised auto-dialer called robocall to spread hundreds of thousands of taped messages to Eritrean phones. "It is time to restore our liberty and dignity" messages were sent automatically.
In another message, the mother of renowned political prisoner Aster Yohannes recalls the fate of her daughter, who was arrested in 2003 and has disappeared.
After two years, the movement is finally gaining momentum inside the country.
"Now they trust us inside the country, we have our team in Eritrea that puts out posters and leaflets late at night," Estefanos said.
"The plan now that we have their trust is asking them to go out and demonstrate."
About 1,500 Eritreans leave their country every month, according to the United Nations, paying up to 30,000 euros ($39,500) each to seek a new life free of grinding poverty and repression.
Earlier this year, Amnesty International put the spotlight on Eritrean asylum-seekers who are kidnapped from Sudanese refugee camps by the local Rashaida tribe, sold to Bedouin criminals in Egypt's Sinai peninsula and severely abused while they are held for ransom.
One thousand refugees are held captive in the Sinai, according to reports. About 7,000 people in total may have been tortured and 4,000 may have died as a result of the people-trafficking in humans from 2009 to October 2012, according to recent data. A total of 3,000 people disappeared from 2007-11.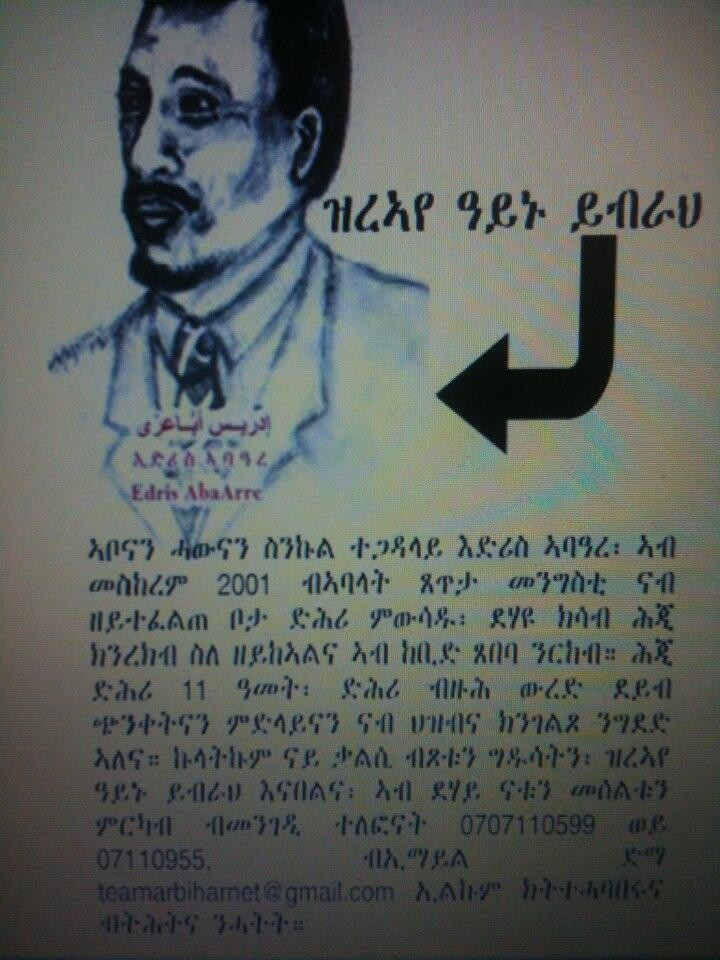 READ:
Eritrea 'Freedom Friday' movement
Eritrean Freedom Friday Movement Article Triggers Heated Twitter Debate