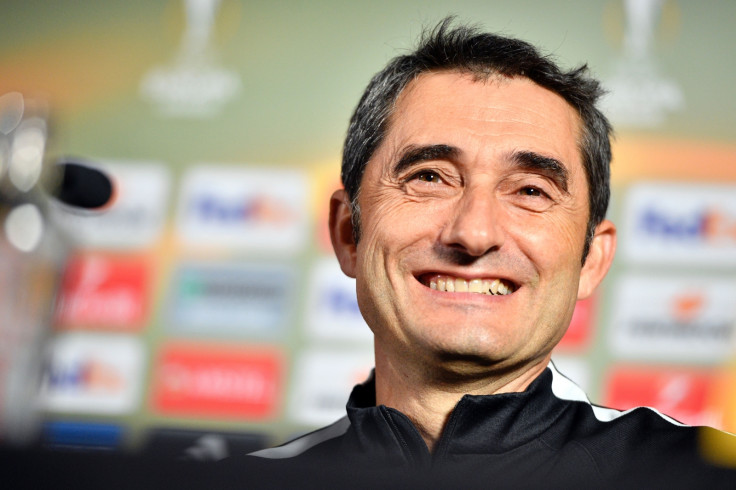 Barcelona manager Ernesto Valverde has allayed fears over the fitness of Luis Suarez after the Uruguay international was benched for the Catalans' 6-1 victory over Eibar on Tuesday (19 September).
Suarez missed the opening two games of the 2017-18 La Liga campaign after picking up a knee injury during the 2-0 defeat to Real Madrid in the second leg of the Spanish Super Cup on 16 August.
Barcelona ruled him out for around four weeks but the striker eventually returned to action a couple of weeks earlier than planned to help his national team in World Cup qualifiers against Argentina and Paraguay.
The former Liverpool ace also played the following three Barcelona games against Espanyol, Juventus and Getafe but looked far from his best, scoring a goal in the win over their Catalan rivals but enduring disappointing performances in the other two games.
Suarez was still expected to lead the attack alongside Lionel Messi on Tuesday night after Ousmane Dembele suffered a serious injury over the weekend which is expected to keep him on the sidelines until 2018.
However, Valverde surprisingly decided to bench the striker and instead choose to select Denis Suarez and Gerard Deulofeu in attack alongside Messi.
Questioned in a press conference whether Suarez's absence was motivated by any fitness issue, Valverde said: "I think this rest will be positive for him. But he's feeling good. I though that it was good for him to have a rest today [against Eibar] and we hope that he'll help us in every way possible.
"We had played three days before [against Getafe] and I wanted to make some changes. We were able to rest some players and give minutes to those that needed to play, and we did well."
The decision paid off as four goals from Messi and others from Paulinho and Denis Suarez led Barcelona to another victory to keep the Catalans at the top of La Liga table, seven points ahead of Real Madrid, who will have chance to reduce the gap when Real Betis visit the Bernabeu on Wednesday night.
It was Barcelona's first game without Dembele since his arrival from Borussia Dortmund but the Nou Camp still had the chance to see the club's other three summer signings in action with Nelson Semedo, Paulinho and Deulofeu making Valverde's starting line-up.
The Barcelona boss was full of praise for the former two as the right-back won the penalty which opened the scoring before the Brazilian midfielder netted the second goal of the game.
"Semedo is a very strong player, very quick. We play with lots of space behind our backs and he helps us. He helps us both defensively and offensively. Every player need a time of adaptation and I hope he can help us though the season," the Barcelona boss said when asked about the performance of the Portugal international at the right-back.
Speaking about Paulinho, he added: "He has a different profile to the other players we have. Others are more noted for their positional play. Paulinho is strong, Other players have more positional play, he's strength, breaking the lines, set plays. He struggled to get into the right positions at first but quickly got himself in gear. The goal helped him get into the game. We hope that he keeps helping us.
Deulofeu did not perform as well as his teammates but the Barcelona boss also hailed his performance with the former Everton star expected to play a key role in the coming months following Dembele's injury blow.
"Deulofeu and Aleix [Vidal] are wide men, and they have to help us now and throughout the season," Valverde added. "Denis' goals have given him confidence and Deulofeu can also score."