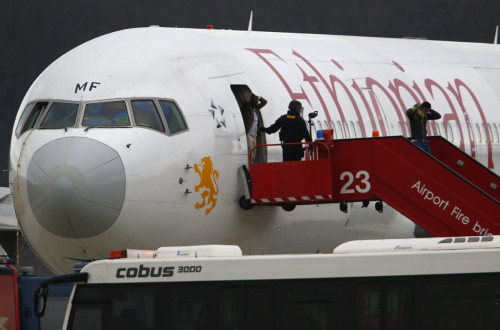 The hijacker who took control of the Rome-bound Ethiopian Airlines plane and landed it in Geneva was the flight's co-pilot, authorities have said.
The Ethiopia-born man, aged about 30, diverted the plane in order to seek political asylum in Switzerland.
The co-pilot took control of the cockpit as soon as the pilot went to the toilet. Shortly after this, as the plane flew over Sudan, the hijacker sought permission from the airport control tower in Geneva at about 04:00 local time to land for refuelling.
The authorities subsequently discovered it was a diversion.
As soon as the passenger jet landed, the co-pilot left through the window using a rope, being before apprehended by the authorities. He did not resist when the police detained him, officials said.
The hijacker was not armed, said Eric Grandjean, spokesperson for the Geneva police.
The man admitted he felt unsafe in Ethiopia and wanted asylum in Switzerland, the authorities said, adding that his refugee request will be reviewed shortly.
Ethiopian authorities are unable to establish the exact identity of the hijacker.
All 200 people onboard the Boeing 767 including the crew and passengers are in good health, while some of them are being questioned.
The passenger jet ET702 originating from Ethiopian capital Addis Ababa was "forced to surrender" after an apparent hijack attempt, the airline had said earlier.
Reports said the jet had circled over the Swiss city before it landed at the airport.
The Ethiopian Airlines said in a statement: "All passengers and crew are safe at Geneva Airport. Ethiopian Airlines is making immediate arrangements to fly its esteemed customers on-board the flight to their intended destinations."
Hijacking is considered as one of the most serious crimes in Switzerland and the co-pilot could face up to 20 years in prison if convicted.