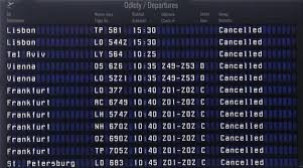 France's main airports have been thrown into chaos by strikes in protest at the EU's plans to centralise the continent's air space.
Air traffic controllers across France have kicked off a series of strikes against plans forged in Brussels to overhaul their industry by centralising air traffic control. The strikes have forced the country's main airports to cut their flight timetables in half.
The Civil Aviation Authority said around 1,800 flights were cancelled at Charles de Gaulle, Orly, Beauvais, Lyon, Nice, Marseille, Toulouse and Bordeaux airports.
The disruption has had a knock-on effect in the UK, with firms such as EasyJet and Flybe cancelling dozens of flights between Britain and France.
The European Union plans to create a new central system of air control across the continent, to eliminate duplication of work across its 27 member countries.
Unions fear the plan for a "single European sky" will cost jobs and reduce pay for air traffic controllers. According to figures released in 2010, controllers in France earned an average of €110,000 a year.
The industry has called more strikes in other countries throughout the EU on Wednesday, with Germany likely to see significant disruption throughout its airspace.
Both the French and German governments are seeking postponement of the EU's plan. French transport minister Frederic Cuvillier said he and his German colleague, Peter Ramsauer, asked the European Transport commissioner Siim Kallas to formally "delay this type of liberalisation" at the European summit at the end of June.
However Kallas has thus far ignored the calls for a postponement, claiming the current system's inefficiencies are costing airlines and customers around €5 billion ($6.6 billion) annually.