Dairy Farmers Take Milk Protest to Brussels [SLIDESHOW]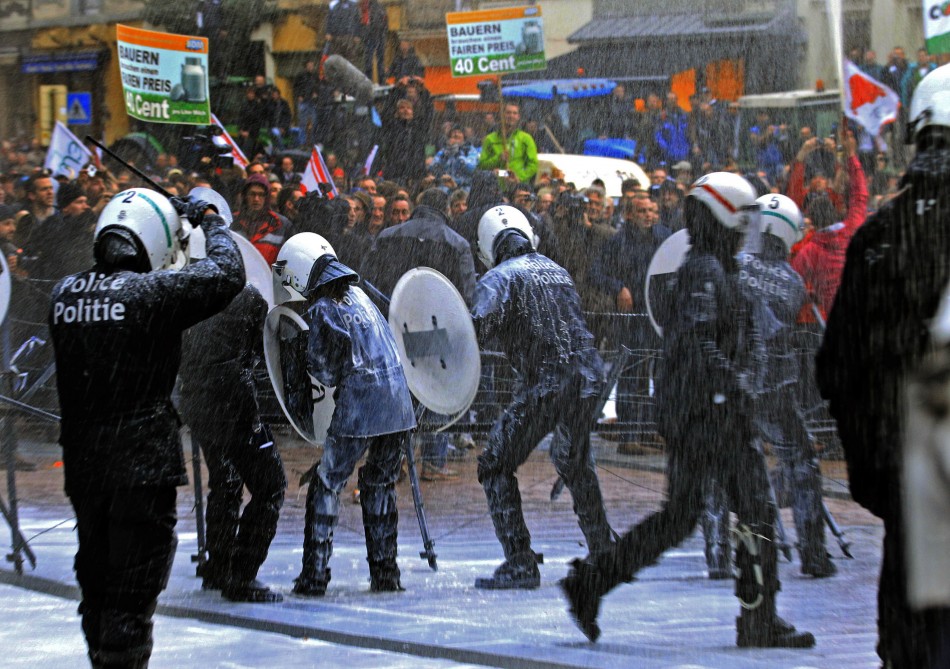 Dairy farmers used tractors to block the entrance of the European Commission's agriculture office in Brussels during a second day of protests against falling milk prices.
Thousands of protesters from all over Europe converged on the Belgian capital on hundreds of tractors as part of the two-day "1,000 tractors to Brussels" demonstration organised by the European Milk Board (EMB).
Farmers sprayed fresh milk at the European Parliament building and at riot police.
Demonstrators set a trailer of hay on fire in Place du Luxembourg in the city's European Quarter and erected a mock gallows from which the dummy of a farmer was hanging.
"European milk producers are facing a dramatic situation. For too long milk prices have not covered the costs of production and thousands of milk producers [have] had to give up," the EMB, which represents dairy farmers from 14 countries, said.
Farmers warmed that if the EU phases out the subsidies system as planned by 2015, small land-holders will to be driven out of business.
Milk prices have dropped because of lower international demand and increased competition.
European producers have to sell milk at a price lower than the cost of production and are kept in business by EU subsidies and other forms of financial support.
In Belgium the wholesale price for a litre of milk is €0.26 (21p) but its production cost is €0.40, according to the EMB.
The EU is the world's larger milk producer but production is higher than consumption despite the introduction of an annual quota.
"It's very simple: you can't live off milk any more," French farmer Leopold Gruget said.
"If I go on, it's thanks to European aid. If they [phase out subsidies] there will be no more small and medium producers here in five years."