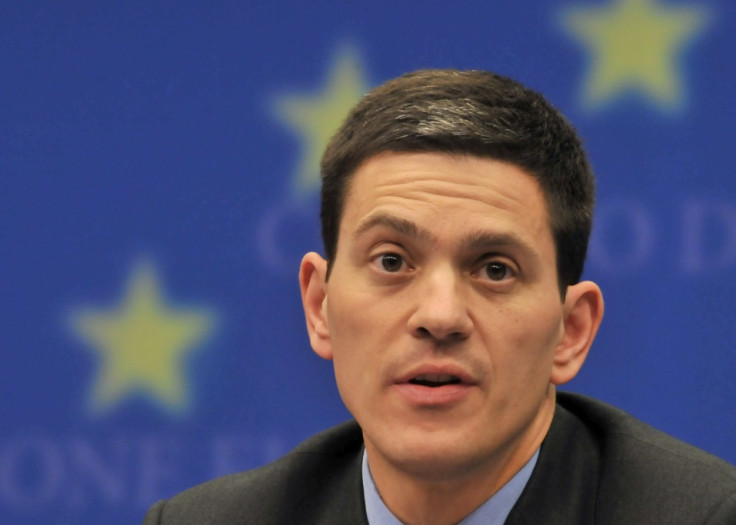 David Miliband has branded Brexit backers as "political arsonists" and claimed a 'leave' vote would only strengthen Russian President Vladimir Putin, as the former UK foreign secretary made his intervention in the EU referendum debate. The Britain Stronger in Europe spokesman delivered a pro-EU speech to a packed audience at Church House in Westminster, London, on 12 April.
Miliband, who became the president of International Rescue Committee two years after he lost to his younger brother, Ed, at the 2010 Labour leadership election, failed to mention Jeremy Corbyn during his speech.
But the former cabinet minister praised Prime Minister David Cameron for making the "patriotic case" for a 'remain' vote at the 23 June ballot. However, Miliband also accused the Conservative leader of "flirting" with a Brexit and 'appeasing' Eurosceptic Tories, such as outgoing Mayor of London Boris Johnson, by promising the historic referendum.
The former foreign secretary made repeated references to Putin throughout his address, warning leaving the EU would turn Britain into "arsonists" in the international global order.
"So if you want to strengthen Putin, vote to leave. If you want to weaken the West, vote to leave. If you want to make it harder to deliver effective aid to the poor, or curb global emissions, or crack down on rogue actors, vote to leave," Miliband declared.
"But if you want to strengthen Britain, vote to remain. If you want to strengthen the forces for stability and security in the world, vote to remain. If you want to support British values of social justice and environmental responsibility, vote to remain."
He added: "And just ask yourself: who will be celebrating the morning after the referendum, if Britain votes to leave?
"Not Angela Merkel, Barack Obama or the leaders of Japan, China, India, South Africa, Australia or Canada. They will be furious. No, alongside Boris Johnson it will be Marine Le Pen, Vladimir Putin and perhaps Donald Trump."
Vote Leave, one of the groups vying for the Electoral Commission's official 'leave' campaign designation, accused Miliband of sacrificing key EU vetoes to Brussels when he signed the controversial Lisbon Treaty as foreign secretary in 2007.
"Miliband talks of political disarmament but appears to have conveniently forgotten his leading role in the Blair government that relentlessly surrendered national powers to the EU, gave away billions from the British rebate, campaigned to scrap the pound and failed to retain control over our borders," said employment minister Priti Patel.
"As foreign secretary he signed us up to the Lisbon Treaty that sacrificed important EU vetoes and misled the public about the power of the Charter of Fundamental Rights.
"Voters will be in no mood for lectures from someone who was wrong then on the EU and is wrong now. The safer option in this referendum is to stop handing Brussels £350m every week and Vote Leave on 23 June."
Latest EU referendum opinion polls
| | | | | | |
| --- | --- | --- | --- | --- | --- |
| Date | Pollster | Remain | Leave | Undecided | Method |
| 29 Mar-4 Apr | YouGov | 39% | 38% | 18% | Online |
| 1 Apr–3 Apr | ICM | 44% | 43% | 13% | Online |
| 29 Mar–3 Apr | OBR | 51% | 44% | 5% | Telephone |
| 29 Mar - 1 Apr | Opinium | 39% | 42% | 18% | Online |
| 24-29 Mar | TNS | 35% | 35% | 30% | Online |
| 24-29 Mar | BMG Research | 41% | 45% | 14% | Online |