There were farcical scenes on the river Thames in central London as a pro-Leave flotilla was intercepted by Remain boats on 15 June. The Fishing for Leave campaign, made up of more than 30 vessels, sailed through Tower Bridge towards the Houses of Parliament, where they planned to protest during Prime Minister's Questions.
Ukip leader Nigel Farage was giving an interview aboard one of the Brexit boats, when a boat carrying Sir Bob Geldof pulled up alongside, playing the Dobie Gray song "The 'In' Crowd" over loudspeakers, drowning Farage out. Brexit campaigners retaliated by trying to drive off a Remain vessel with a jet of water. Meanwhile, police boats tried to round up tiny pro-Remain dinghies buzzing around the flotilla.
Geldof told Farage: "You are no fisherman's friend," adding he should "go back down the river because you are up one without a canoe or a paddle." Farage described Geldof's protest as disgusting. He argued EU membership had "destroyed our industry" because of access to a common resource. He said: "We want our waters back."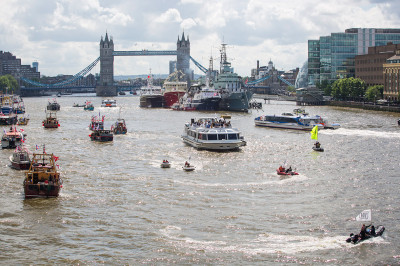 The Brexit flotilla stunt comes with just eight day to go until the 23 June referendum, with the latest opinion poll putting the race almost neck-and-neck. The online ComRes survey for The Sun, of more than 1,000 people between 9 and 13 June, put Remain on 46% (-6) and Leave on 45% (+4), with 9% of respondents undecided.