The European Union Referendum is starting to cause new fractures within the Conservative Party, with reports released on Sunday (29 May) claiming that two MPs have demanded that prime minister David Cameron quit and a general election to be held before Christmas.
Two MPs in support of Brexit - Andrew Bridgen and Nadine Dorries - have spoken openly against the Tory leader. Dorries claimed Cameron was an "outright liar" while Bridgen claimed that he was making "outrageous" statements when attempting to convince the public to vote in favour of the UK staying within the EU.
Bridgen said around 50 MPs within the Tory party were ready to take action against the prime minister if the country votes in favour of Brexit. In an interview on BBC 5 Live, he explained: "The party is fairly fractured, straight down the middle and I don't know which character could possibly pull it back together going forward for an effective government. I honestly think we probably need to go for a general election before Christmas and get a new mandate from the people."
Dorries also expressed her dissatisfaction over the Conservative Party leader's statements and called for a vote of no confidence in him. She told ITV's Peston On Sunday that she had submitted her letter to the chairman of the Tory backbench 1922 committee calling for Cameron's removal.
"[Cameron] has lied profoundly, and I think that is actually really at the heart of why Conservative MPs have been so angered. To say that Turkey is not going to join the European Union as far as 30 years is a lie," she said, adding that she was in favour of former London mayor Boris Johnson succeeding.
"If the Remain camp wins by a large majority – I think it would have to be 60/40 – then David Cameron might just survive; but if Remain win by a narrow majority or lose ... he's toast within days" she continued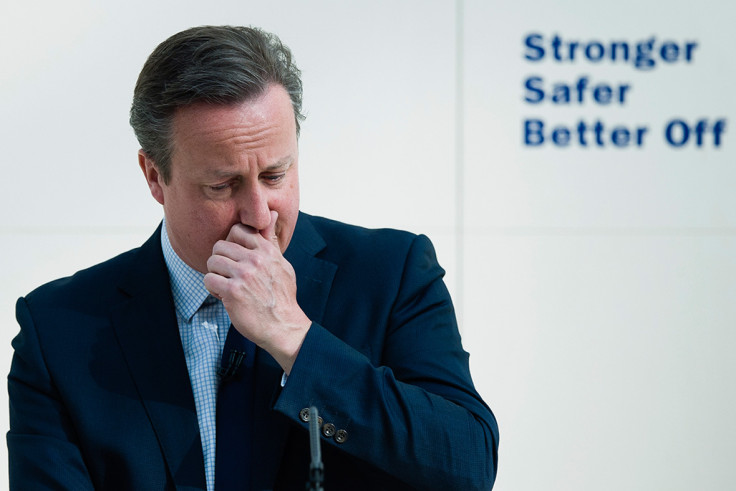 The Sunday Times quoted another rebel MP as saying: "I don't want to stab the prime minister in the back – I want to stab him in the front so I can see the expression on his face. You'd have to twist the knife, though, because we want it back for [George] Osborne. All we have to do is catch the prime minister with a live boy or dead girl and we are away."
The open division within Cameron's cabinet is a matter of major concern for the prime minister who told GQ Magazine that he wished that Johnson was on the Stay side. "Of course it's frustrating, and I'm sorry Boris isn't on the In side. Because, as he said before, he's never been an 'Outer'. I don't like having senior colleagues on different sides of the argument ... I didn't want that, but it is a subject of sufficient importance there was always going to be some of that.
"I'll leave it to Boris to explain what he's doing; he can explain that himself. I don't have to."
The Remain campaign received a boost after 600 leading economists predicted that the British economy would be in trouble if the country were to decide on Brexit. However, their statement was overshadowed by a powerful counter-attack from the Leave campaign which targeted Cameron on a personal level.