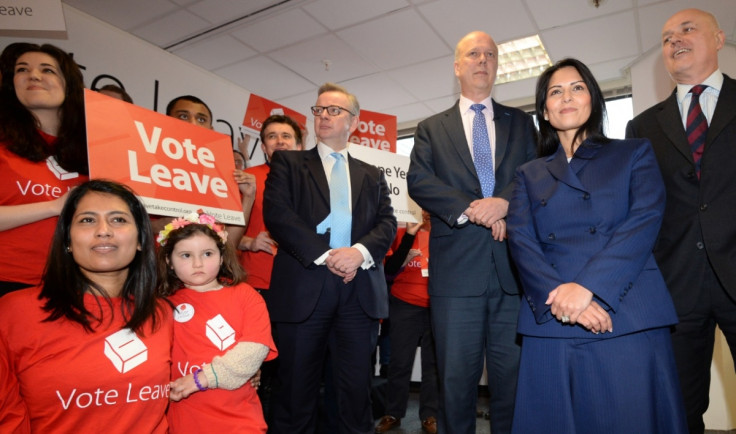 Ukip has accused one of the main Brexit campaigns of playing "fast and loose" with their support figures ahead of the EU referendum. The claim comes after a source in Vote Leave told IBTimes UK that the group had signed up more than 400 councillors.
"We think Vote Leave has what it takes to win the referendum and that's the most important thing. We have a huge amount of [Ukip] behind us, and I'm sure everyone will come together once the designation is made to campaign for leave. We are all fighting for the same thing after all," the source added.
Vote Leave has the support of Ukip's only MP Douglas Carswell, former deputy chairman Suzanne Evans and other Ukip members.
But Ukip has officially thrown its support behind the Grassroots Out (GO) movement, which was founded by Labour MP Kate Hoey and Tory MPs Peter Bone and Tom Pursglove.
The group, which also has the support for Ukip donor and Leave.EU co-founder Arron Banks, is competing with Vote Leave for the Electoral Commission's Brexit campaign designation.
The lead 'leave' group will be handed a generous spending limit of £7m ($10m), £600,000 of taxpayers' cash and campaign broadcast slots on TV.
The Electoral Commission will factor the breadth of support GO and Vote Leave have when it makes it decision before 14 April.
"They're playing a bit of a fast and loose game by claiming that [the Ukip councillors] support Vote Leave. They do, but not for designation," a Ukip source told IBTimes UK.
A separate source close to Ukip leader Nigel Farage shared the sentiments and pointed to David Sprason, chairman of Ukip's Councillors Association, who claimed more than 90% of Ukip Councillors have signed up with GO.
Vote Leave had not responded to IBTimes UK's request for comment on Ukip's "fast and loose" allegation at time of press.
Meanwhile, Evans has been appointed to Vote Leave's board. The move comes after she was sacked as Ukip's deputy chair and welfare spokeswoman. German-born Gisela Stuart has been appointed the new chair of the Eurosceptic group.
"I'm delighted to be leading the campaign to take back control from the EU," the Labour MP said.
"If we Vote Leave we will be able to spend our money on our priorities like the NHS. We will be able to once again vote for – and kick out – the people who make our laws.
"If we take back control we will be safer as a country. I would encourage people from all campaigns and none to join up with our campaign today."