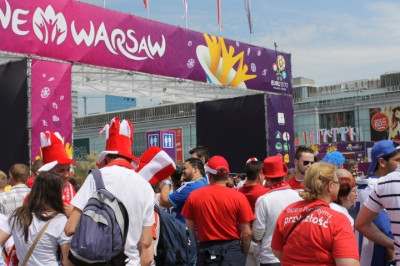 After months of serious build up around the continent, the 2012 Euros finally began last night, and there was no better place to be than in the middle of the action as Warsaw's flagship football stadium opened its tunnels for Poland v Greece.
And the match certainly didn't disappoint, with both sides going down to 10 men before the game had finished, and Poland substitute goalkeeper Przemyslaw Tyton saving a penalty to hold onto a much needed point for the host nation as Greece manager Fernando Santos looked particularly dejected as his side were unable to take the lead.
The result left the group wide open, despite Russia defeating Czech Republic 4-1 afterwards, and Polish fans will be hoping their side can stand up to a strong Russian line-up come next week.
But Friday night was all about the celebration of the tournament coming to Eastern Europe, and fans were ready to take full advantage of that, holding street parties and lining up for every bar, club and restaurant in the area to make the spirit as much fun and positive as possible.
In the face of a great deal of controversy surrounding the tournament, this was a welcome sight for many, and though Poland fans are known for their hostility towards rivals, many could be seen in the streets sharing drinks, laughs and photos with the Greece fans, who were wildly outnumbered at the match.
IBTimes UK was on hand to get some pics of the city, and while Saturday night will see the favourites to win the tournament come face to face, the opening night will be one to be remembered.