At least 27 people, including nine schoolchildren, were injured in at least four consecutive blasts in the eastern Ukraine city of Dnipropetrovsk.
The first blast came at a tramway stop in the city centre, injuring 13 people; the second injured at least eleven people outside a school, while the third one wounded three people near a railway station.
The Interior Minister, Vitaly Zakharchenko, said he was urgently flying to Dnipropetrovsk to investigate the blasts.
TVF Promotions tweeted that one of the bombs hit the site where England team and fans will be based during the Uefa Euro 2012 Championship, to be held from 8 June to 1 July 2012.
"Bombs going off in #Ukraine will have big ramifications on security ahead of#Euro2012. #Dnipropetrovsk" tweeted broadcast journalist and football commentator Dave Rhodes.
Other users posted pictures of military tanks flocking to the city centre.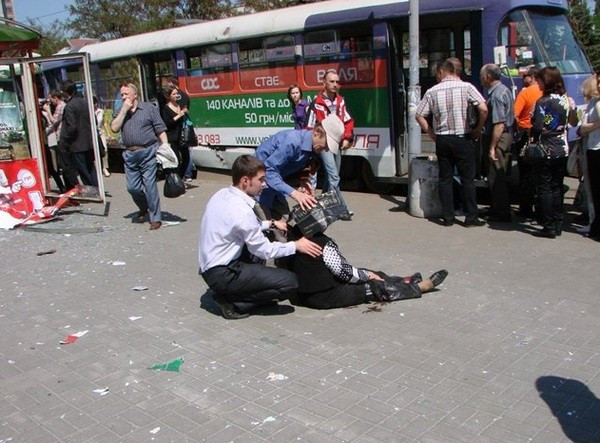 In January 2011, two pre-dawn explosions outside an office of a coal mining company and then a shopping centre in the eastern city of Makiyivka caused no casualties.
The city, with around one million people, is one of the largest in the country.
In November 2011, a bomb placed in a rubbish bin exploded and killed a man in a terrorist act.
Dnipropetrovsk built a new football stadium ahead of Euro 2012, the Dnipro Arena with a capacity of 31,003 but was dropped from the list of possible venues because it fell short of the minimum 33,000 seats required by Uefa.
The Ukrainian government was accused by animal rights organisations such as Peta (People for the Ethical Treatment of Animals) of killing stray dogs ahead of the tournament. It allegedly offered a bounty of the equivalent of £35 per dead dog to speed up the cull.
Kiev is eager to use Euro 2012 as a way to improve its tarnished image and to boost tourism in the country.