Spanish fans have urged manager Vicente Del Bosque to drop David de Gea for the Euro 2016 last- 16 encounter against Italy after the Manchester United stopper had a night to forget in the costly 2-1 defeat to Croatia on Tuesday 21 June.
A poll launched by Marca revealed that more than 70% of the voters would rather to see Real Madrid legend Iker Casillas in the No1 role against Antonio Conte's side as a result.

De Gea was just given the starting spot in the European Championship after Casillas served as La Roja's goalkeeper during the previous decade, helping Spain to win the last two European Championship and the World Cup 2010, but also being singled out as one of the guiltiest parties of Del Bosque's disappointing campaign in Brazil 2014.
Many fans had since demanded Del Bosque to give De Gea the No1 role amid suggestions the 35-year-old Real Madrid legend has already passed his best years, while the Manchester United stopper is at his peak.
Del Bosque appeared to think the same as he didn't hesitate to deploy Gea in his line-up for the opening 1-0 victory over Czech Republic, despite the game coming only days after the United keeper was involved in a huge sex scandal in his homeland.
But despite De Gea also keeping a clean sheet in the following victory over Turkey, the debate has re-emerged after he suffered a shaky performance in the 2-1 defeat against Croatia.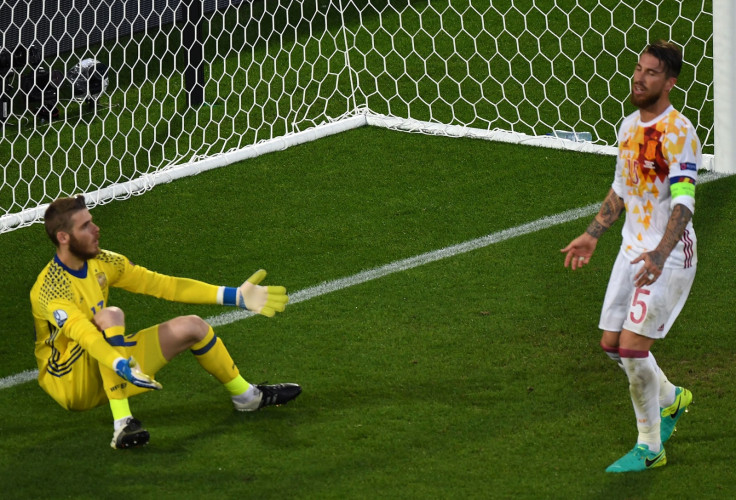 The United keeper made a massive mistake earlier in the game that saw Barcelona's Ivan Rakitic hitting the bar and looked without any confidence in himself. The keeper lost a number of aerial battles with the Croatian forwards and, after Sergio Ramos wasted a penalty to kill the game, The defeat was costly for Spain as they now have a very complicated draw ahead which will start with a last-16 encounter with Italy on Monday.
Del Bosque played down after the game the mistakes made by De Gea but the Spanish fans have named him the scapegoat of the disastrous defeat. A poll made by Marca, the biggest Spanish newspaper, revealed that more than 70% of the readers wants the United keeper to be punished and dropped against Italy.