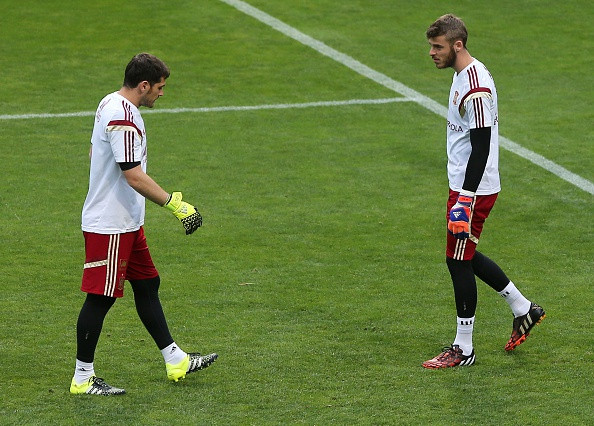 Spanish fans want Vicente del Bosque to use David de Gea as the goalkeeper for the national side's European Championship run, ahead of Iker Casillas. The former Real Madrid goalkeeper had been the preferred option of the manager for much of the qualification campaign, but a poll in Marca showed fans were won over by the Manchester United star's performance in the 1-0 victory over Ukraine on 12 October.
Casillas was a crucial player during Spain's golden era, helping the side to Eur0 2008 and 2012, as well as the 2010 World Cup. However, his position has been under scrutiny in recent years following a drop of form at club level and a disastrous World Cup 2014 campaign.
The 34-year-old was forced to leave the Santiago Bernabeu during the summer to move to Porto, but he is still Del Bosque's first choice for Spain – having played seven of the 10 qualifying matches.
But having already qualified for next summer's finals following a victory over Luxembourg last week, Del Bosque handed De Gea a starting role in the win over Ukraine. His impressive clean sheet performance reopened debate in Spain over who should be the number one.
A poll in Marca asked the Spanish public about their preferences. 74.1% wanted De Gea as the country's custodian, compared to just 24.9% for Casillas.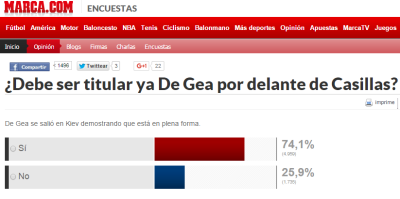 When asked after the Ukraine match if he would be disappointed about not being the first choice goalkeeper in Euro 16, De Gea said:"I've said it before; I want to be at the top of my game to make the decision [for the manager] as difficult as possible.
"I want to maintain the form I had last season. It's tricky maintaining a great run of form but I need to keep improving and growing. I always try and do my best. Tonight things worked out well and the important thing was to win the game. I always give my all and today luck was on my side too. This is the way forward".