Real Madrid star Cristiano Ronaldo is undoubtedly the leader of Portugal's national team at Euro 2016. However, just like CR7 needed the the support of Gareth Bale, Luka Modric and Karim Benzema to win the Champions League, the former Manchester United hero will also need assistance from his teammates to have any chance of replicating that success in France.
The experience of Pepe and Ricardo Carvalho at the back, along with the presence of Ricardo Quaresma and Nani in attack, will be important – but Portugal needs a midfield capable of blending those lines if they want to cement a position as a top European nation. With 18-year-old prodigy Renato Sanches seemingly too young to cope with that role, and Joao Moutinho having failed to perform in big games on the international stage to date, it looks like the perfect time for Valencia midfielder Andre Gomes to make the big step up.
Following the golden generation of Rui Costa and Luis Figo, it seemed that everyone who glittered in Portugal was set to become gold. Simao, Nani, Quaresma and later Moutinho all made moves to major European teams such as Manchester United, Barcelona or Monaco hoping to become the next big Portuguese thing. However, only Ronaldo's move to Old Trafford from Sporting Lisbon in 2003 has really paid off.
In the 13 summers since, none of his potential successors have come even remotely close to the level of the three-time Ballon d'Or-winner.
The side who claimed second in last summer's U21 European Championship promised a bright future, but while France may be too soon for the likes of William Carvalho, João Mário or Raphael Guerreiro – as well as Sanches – it is a perfect time for 22-year-old Andre Gomes to show why he will be one of the most coveted assets of the summer transfer window.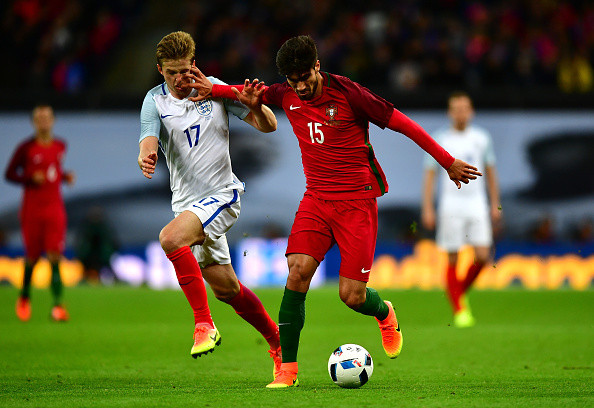 The talented midfielder joined Valencia two summers ago after garnering a big reputation at Benfica. Following an impressive debut campaign in La Liga he suffered a difficult second season, mainly due to the struggles Gary Neville's former side experienced.
However, this inconsistency has not stopped him being linked with a move to a top European side – with local newspaper Super Deporte recently claiming Valencia will demand at least €65m (£50.7m, $73.9m) to part with the player.
Juventus were the early favourites to lure him to new pastures, but the appointment of compatriot Jose Mourinho as new Manchester United boss has sparked speculations linking him with Old Trafford instead.
Speaking from Portugal's pre-Euro 2016 camp, Gomes did little to diminish those rumours, saying: "Mourinho is a great coach, no doubt about that, but at the moment I am not concerned about what will happen after the Euros. It will be my first time at a competition of this type, and I just want to think about that now."
There have been suggestions that United did not make much of their battle with Bayern Munich for Renato Sanches as Gomes is Mourinho's first choice to bolster his midfield. He shares an agent, Jorge Mendes, with the midfielder.
The former Porto, Real Madrid, Inter Milan and Chelsea manager has always built around a pivotal midfielder, whether it be Deco, Wesley Sneijder, Frank Lampard or Cesc Fabregas. Gomes has the potential to follow in their footsteps, but he must prove himself at Euro 2016 if he is to prove to United he is worthy the fee Valencia are demanding.