Euro 2012: Spurs' Scott Parker Hails England Unity
Tottenham and England midfield dynamo Scott Parker has admitted this could be the last time he represents his country at a major tournament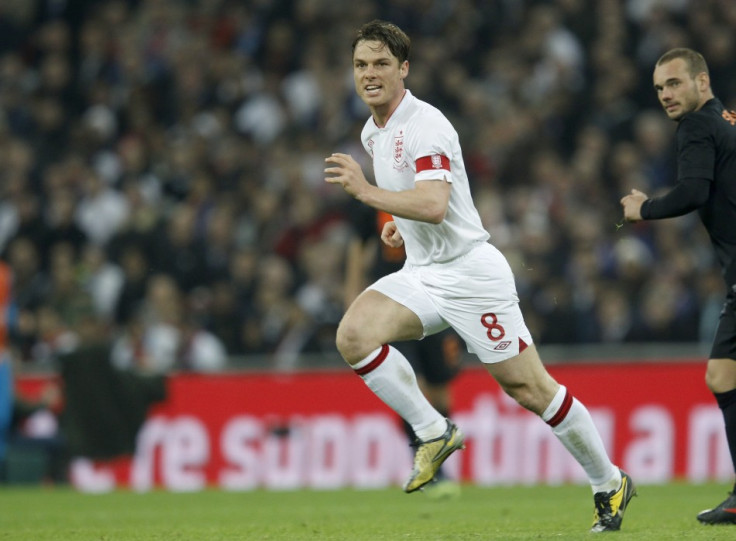 Tottenham and England midfield dynamo Scott Parker has admitted this could be the last time he represents his country at a major tournament and that he will do everything he can to keep the experience alive.
The 31 year old tough tackling midfielder has become a key fixture in this new England side and his performances in the group stages, while not creatively spectacular, were cut from the mould of the old-fashioned defensive midfielder... the kind that will stay back and do all the dirty work so more attack-minded stars like the Manchester United trio of Ashley Young, Danny Welbeck and Wayne Rooney, among others can prosper.
"I can't quite believe I'm part of it now. It makes you feel all the hard work has been worth it. It's huge for me. Playing for my country is a massive honour. Long may I stay in the competition. I'm not getting younger so this may be my 'one time'. My one and only time to come up against the likes of Di Natale, De Rossi and Pirlo and show what I can do," the Spurs midfielder was reported as saying by The Sun.
Parker also admitted that while his role may not be glamorous, it was just as important as that of the strikers, a philosophy that has much to do with the pragmatic approach of coach Roy Hodgson and, indeed, even of the Italian who preceded him, Fabio Capello.
"No, it's not glamorous but it is important. It lets Steven Gerrard play and dictate things and that's what it's about. How you win games is immaterial. Yes, some people don't like it - I can see you don't - but, hey, that's the way it goes," the player emphasised.
Meanwhile that very same pragmatic and defensive approach has earned the English comparisons with Chelsea, who defended their way into club record books after winning their maiden Champions League title in May. That approach was overseen by another Italian, Roberto Di Matteo. For the national team, Hodgson, perhaps as much by circumstances (he took charge of the national team with barely any time to make deep changes) as the lack of world class creative players, seems to be copying that approach.
"I think we have a real togetherness and commitment in the squad and, ultimately, that can get you a long way. We've seen that last season with Chelsea and other teams. Fundamentally, they are the main key ingredients of why we can go and progress further," Parker added in another report by The Sun.
The focus on player unity has not escaped too many people. The Euro 2012 squad snub aside, Manchester United defender Rio Ferdinand said the same thing.
"When I first started with England, players would sit in distinct groups. You would have a table for Manchester United players, another for the Liverpool lads and one for Alan Shearer and his mob. Certainly under Fabio Capello, he insisted everyone sat together at meal times and he didn't expect any cliques," the veteran centre back explained.
Meanwhile, Hodgson has urged his players to make history. England have never won a knock-out game against a major footballing nation, according to a Daily Mail report, away from Wembley and the former West Brom coach is eager for that to change.
"At West Brom I was lucky enough to put some hoodoos to bed. That's the only way to do it.'
I'm excited by the whole thing. Like the rest of the country, we dream. We dream of doing well and winning matches, so let's just try and win the game," he stressed.
The final quarter final of the 2012 European Championships will take place on Sunday, 24 June, at the Olympic Stadium in Kiev. The winners of this game will face Germany in the semi final, scheduled to played at the Warsaw National Stadium in Poland on 29 June.
© Copyright IBTimes 2023. All rights reserved.