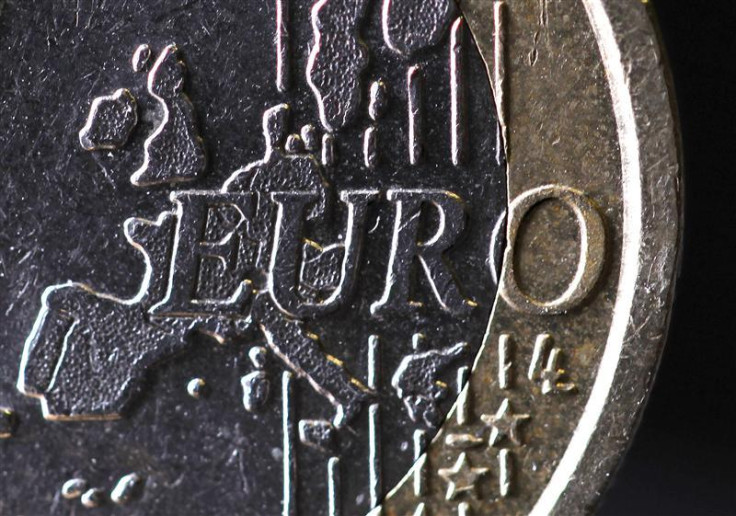 1545 BST: It came ... then went
Europe got a bit of a bounce from the US consumer sentiment data, but not enough to spark a lacklustre equity session, which looks set to end the day (and the week, for that matter) little changed.
The single currency, however, did climb from its 1.2499 print to about 1.2530 but bund yields are still tumbling and the financial situation in Spain is looking very uncomfortable indeed. FTSE Eurofirst 300 is about 1 point from its opening 980 level, but will probably ride a 1 percent gain for the week.
Britain's FTSE 100 looks like the top weekly performer of the major domestic markets, bouncing from a six-month low to gain 1.2 percent over the five-day period.
We'll get Bankia rescue details after the close and, I'm sure, reams of speculation over the weekend regarding Greece's departure, Spain's banks, Germany's view on Euro bonds and David Cameron's "Plan B" for the moribund British economy.
Have a great weekend everyone and thanks, as ever, for following along!
1500 BST: Shop till you drop
European shares might get some help into the close after a very strong reading of the May Thomson Reuters/University of Michigan Consumer Sentiment Index, which came in at 79.3, the highest reading since July 2007 for the world's bigg3st (and most important) consumer economy. Both 1-year and 5-year inflation outlooks were also lower than expected (but I hate those numbers anyway).
1430 BST: French banks drawing up Grexit plans
So reports Reuters, citing unnamed sources. Mind you, Belgium's Deputy Prime Minister Didier Reynders said earlier today that *not* doing so would be "a grave professional error", but it's nonetheless troubling to see the scale of such plans begin explored around the region. Reuters says BIS figures show cross-border lending from France to Greece was $44.4bn at the end of last year, more than three times higher than similar figures from Germany.
1420 BST: Weaker still ...
The Euro is falling fast after news that Spain's richest region will need central government assistance with its budget and refinancings. The single currency is now trading below 1.25 against the US dollar while Spain's IBEX 35 is down a full 1 percent to a session low 6,469
1340 BST: Spanish fallout
The Euro sinks to a session-low 1.2505 after the Catalan President's bombshell, while German bund futures for June delievery rise 24 ticks (on the day) to 144.21
1335 BST: BREAKING NEWS: Catalan President says his region needs financial support
The President of the largest of Spain's 17 autonomous regions, Artur Mas, told reporters today Catalonia would need central government support to finance its current deficit and the €13bn in maturing bonds it needed to repay this year.
"We don't care how they do it, but we need to make payments at the end of the month. Your economy can't recover if you can't pay your bills," he said.
Spain's benchmark 10-year bond yields rose to a session-high 6.27 percent after the statement, despite having dipped under 6 percent at the beginning of the day.
(UPDATE) 1400 BST: Spain's ruling People's Party agreed, only 8 days ago, to sign-off on 16 of the 17 regional budgets after agreeing to €18bn in austerity pledges from all of them (collectively) Together, the regions have around £38bn in refinancing needs for this year alone.
1320 BST: Weale find a way?
Dreadful pun out of the way ... now ... Martin Weale, a Bank of England rate-setter, tells BBC radio that the downward revision to UK GDP this week strengthens the case for more quantitative easing, but he and his colleagues on the Monetary Policy Committee are still mindful of inflation. He also reiterates the view that the most significant headwind to UK growth is the current European crisis, but adds that the UK economy could withstand a Greek withdraw from the single currency.
Gilt yields have been collapsing all week in the wake of tame inflation data and the downward GDP print and were given rocket fuel when talk of more BoE asset purchases began to intensify. Benchmark 10-year Gilts traded little-changed at 1.78 percent today while 2-year and 5-year Gilts printed all-time lows of 0.214 percent and 0.713 percent respectively.
1155 BST: Stocks getting weaker
The (mildly) bullish tone to this morning's equity trading session is starting to fade as the FTSE Eurofirst 300 slips further into negative territory on the day, down 0.4 percent to 978.71.
1130 BST: I'm a believer in data ...
... but I've never understood the veracity of "inflation expectations" figures. I'm sure there's an empirical data-set to support them, but anecdotally, has anyone ever had a conversation in which the phrase "I think I'm going to be spending less money next year because most of the things that I buy are getting cheaper" was uttered? Me neither.
Anyway ... CItigroup and YouGov published their May inflation expectations gauge this morning, showing Britons see the pace of inflation slowing to 2.8 percent in the coming year and 3.4 percent over the next 10 years.
1100 BST: These aren't the Droids you're looking for ..
Martin Kotthaus, a spokesperson for the German Finance Minister, seems to be playing something of a Jedi Mind-Trick this morning, telling reporters that a delay in releasing aid tranches to Greece wouldn't really be that big of a deal. Well, "unproblematic", at the very least.
"As far as I am aware, there is no current need for external financing up until beyond the first half of the year," he told a regular news conference in Berlin.
Nothing to see here ... move along ...
1025 BST: Round numbers and anniversaries
... are the two things journalists love the most, as they give us easy-to-justify talking points for subjects we'd like to discuss.
Greece's benchmark Athens Stock Exchange General Index has broken 500, extending a 26 percent year-to-date decline and a 61 percent year-on-year decline. It's now trading at 499.27.
1015 BST: The wages of austerity
German media has been reporting that IG BCE, the chemical workers' union, is close to cutting its latest wage deal. Union bosses, which represent around 550,000 workers, were seeking a 6 percent increase, but will likely settle for something closer to the 4.1 percent agreed last week by IG Metall, the nation's largest (with 3.6m members) industrial union.
Some 9m German workers will get a new wage agreement this spring, all of which tabled starting-level rises of between 6 percent and 6.5 percent. This, of course, in an economy that will need hard work to avoid slipping closer to zero growth and where inflation sits as a moderating 2 percent.
The "optics" of these generous deals will be very interesting indeed when seen through the prism of austerity-choked taxpayers around the rest of Europe.
0955 BST: Bankia update
We're unlikely to see the shares trading again today as plans for the state-rescued lender's bailout costs will be made public after markets close in Madrid. Multiple media reports suggest Economy Minister Luis de Guindos' estimate of a €9bn injection is about €6bn shy of the total required - and potentially as much as €11bn short.
Given its size (holding 10 percent of Spain's deposit base) and the government's stake (45 percent) it's odd to see such an improvement in Spanish government debt prices today when you the capital needed to stabilize Bankia (be it €6bn or €11bn) will need to be raised at the sovereign level.
0910 BST: Hawley, meet Smoot
China has filed a WTO complaint against the United States in an effort to challenge its decision to add import tariffs to, inter alia, renewable energy goods that the US says are unfairly subsidized by the Chinese government.
Last week, the US Commerce Department slapped import duties as high as 250 percent on China-made solar-cells and, last year, several US firms filed a formal complaint to the US International Trade Commission.
0850 BST: The Hunt for Yield
Not exactly a best-selling political thriller, but a good description of what's happening in Europe's government bond markets. We're seeing an increasing move to higher-yielding government debt in the wake of the persistent fall in German yields (and the near zero rates now on offer at the front end of the curve).
France has been the main beneficiary, as again today its 10-year yields print another all-time low (2.42 percent)
0830 BST: "Spectacular Market Disintegration"
ECB board member Peter Praet is giving a keynote speech at the Annual International Capital Market Association conference in in Milan - and his comments are hitting the tape now. The Belgian says there is "spectacular disintegration" in the Eurozone at present and that central banks need to assist the "unavoidable" process of commercial bank deleveraging.
He adds that governments need to restore credibility on debt sustainability but at the moment, it's proving difficult to disconnect the perception of a nation's banking system from that of its government.
0815 BST: Strangest trade of the day
Spain's benchmark 10-year bonds are trading *under* 6 percent this morning, despite the Bankia share suspension and the ongoing risk profile of both the Spanish and European economies.
I'm growing increasingly convinced that real investor price discovery on Spanish debt is getting harder to find in illiquid cash markets as traders turn to credit default swaps. Spain's 5-year CDS is trading at 545 basis points, meaning investors are paying €545,000 each year for five years to insure €10m Spanish bonds from default.
0810 BST: Bankia suspension confirmed
Spain's market regulator, CNMV, confirms Bankia suspension "due to circumstances that may affect the normal share trading". Media reports suggets it's going to need around €15bn in bailout cash, some €9bn more than first anticipated, when its restructuring plan is presented later today.
0805 BST: Early Bump
Reports that Bankia shares have been suspended at the opening of trading in Madrid over concern that the arranged bailout may not be sufficient to meet its capital requirements. I'll see what I can dig up on this.
Broadly, though, Europe's opening with a better tone than first anticipated. The FTSE Eurofirst 300 is up 0.1 percent ot 983.55 while we're seeing modest 0.2 percent to 0.3 percent gains around the major domestic bourses.
0750 BST: Good Morning!
It could be a bumpy ride this morning for European equity markets as investors try and square positions from yesterday's (oddly counterintuitive) rally and ahead of a two-week stretch filled with holidays and headline risk.
Asia's share markets have set the early tone with a very cautious session that extends some worrying losing streaks across the biggest stock indices in the world. Japans' benchmark Nikkei 225 was one of the few markets in the green this morning, but even its modest 0.2 percent advance won't snap a weekly loss of 0.6 percent and the longest losing streak in at least 20 years.
The broadest measure of stocks outside of Japan, the MSCI Asia Pacific Index, shed around 0.7 percent on the day after a positive start, setting up a weekly and year-to-date loss that extends the longest consecutive stretch of 5-day declines since December. The benchmark is now down 2.3 percent year-to-date.
Emerging market stocks were also battered as investors took more risky positions out of play after disappointing economic data in China and the United States, downright grim figures from Europe and the United Kingdom and the over-arching concern that Greece's march to the single currency exit may be too far along to stop. The MSCI Emerging Markets Index, the global benchmark, fell 0.5 percent to take match a weekly loss record set back in 1994.
European markets are set to open lower as a result, with financial bookmakers calling for a 0.4 percent decline across the board. Bond markets have opened with a defensive tone, taking the 10-year Bund yield to yet another all-time low of 1.35 percent while the single European currency remains range-bound near its 22 month low at 1.2530.