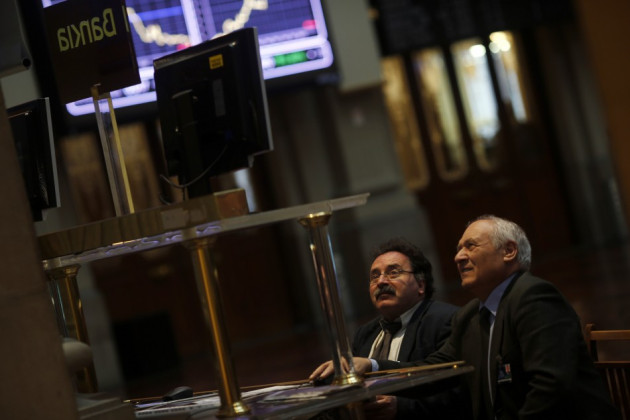 Most European markets opened slightly lower following mixed trade in Asia as investors continued to contemplate as to the timeline of the US Federal Reserve's potential pruning of its massive global asset buys, a key stimulator of markets worldwide.
The FTSE EUROFIRST 300 inched up 0.1% to 1,228.19 points, Britain's FTSE 100 was down 0.2% in early deals, Germany's DAX was down 0.2%, while France's CAC-40 lost 0.1%.
Italy's FTSE MIB rose 0.3% while Spain's IBEX fell 0.1%.
Investors in Europe will be tracking manufacturing PMI data out of China, expected later in the evening. They will also be following Canadan quarterly growth numbers today, with annualised quarterly GDP forecast to grow 2%.
News from India, Asia's third biggest economy, showed the country's economic growth had dropped to 5% for the financial year ending 31 March, 2013, the lowest in 10 years.
In the UK, lobby group, the British Chambers of Commerce (BCC) said the UK could post better-than-expected GDP growth over the next three years, with business investments and household consumption forecast to rise over the years.
Consumer confidence in Britain's economy rose to a six-month high in May, to a seasonally adjusted minus 22 from minus 27 in April. Consumers were more optimistic about their personal finances, indicating the country's economy was on the road to recovery.
In Europe, The Bank of Italy's Governor Ignazio Visco will deliver his annual address on the state of the economy. Italian monthly and quarterly unemployment data will be out before Visco's address.
Eurostat will put out eurozone-wide unemployment and inflation data in the morning. France puts out month-on-month consumer spending data, while Spain will announce the state of its current account.
Spain's Santander bank has said it had sold a 50% stake in its asset management division to private equity firms Warburg Pincus and General Atlantic LLC.
Elsewhere in Europe, German retail sales data for April showed sales dipped 0.4% month-on-month, but they rose 1.8% annually.
On 30 May, the Organization of Petroleum Exporting Countries (OPEC) said it expects to maintain the current oil-production cap, against the backdrop of rising shale oil production in the US.
In Asia, Japan's Nikkei ended 1.4% higher after Thursday's 5.2% drop. Australia's S&P/ASX ended 0.9% lower at the end of day's trade, while South Korea's Kospi closed 0.05% higher.
Earlier in Asia, most markets advanced with the Japanese Nikkei springing back from a 5.2% drop on Thursday, boosted by gains on Wall Street after subdued US economic data hinted the Federal Reserve may not prune its massive global asset buys anytime soon.
The Nikkei was also supported by data that showed both Japanese consumer prices and industrial production rose in April, at 0.3% and 1.7% respectively.
On Wall Street, the Dow Jones industrial average inched up 0.14% at the end of day's trade on 30 May, while the SP 500 Index added 0.37%. The Nasdaq Composite rose 0.69%. Rising claims for unemployment benefits and lower-than-expected growth numbers pushed the markets up in the world's largest economy.