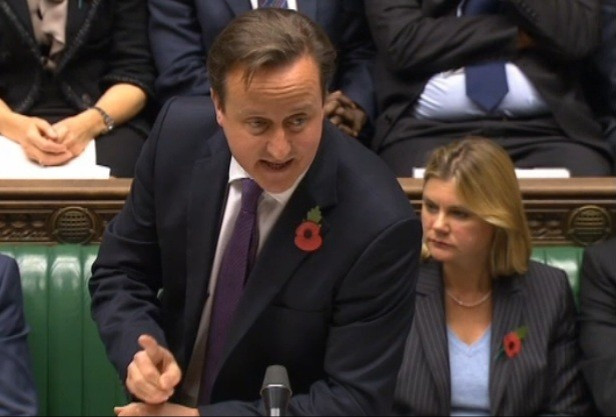 Labour leader Ed Miliband raised the spectre of the darkest days of Tory disunity over Europe by calling David Cameron a weak statesman, and accusing the prime minister of being "John Major all over again."
Prime Minister's Questions (PMQs) saw the two leaders clash over Europe, with Cameron facing the prospect of a backbench rebellion by his own MPs, who want to loosen Britain's ties with the European Union.
Exchanges at PMQs took place just hours before MPs vote on a possible increase in the EU's budget. While Cameron is reportedly prepared to want a freeze in the size of the budget, a significant number of MPs in both the Labour and Conservative parties are demanding a real-terms cut.
Labour has thrown its weight behind a motion demanding a cut, while a number of Tory MPs are expected to defy Cameron's new chief whip Sir George Young by voting against their leader on the issue.
On Halloween, Miliband reminded the House of the vicious infighting over Europe which tore apart the previous Tory government in the 1990s. A number of Conservatives rebelled against Major, prompting the then-Prime Minister to label them 'bastards'.
At the despatch box, Miliband called Cameron "weak abroad, weak at home - it's John Major all over again."
In response, Cameron said his rival was playing politics and not serving the country, accusing Miliband of "rank opportunism".
The prime minister added: "This government is taking the toughest line on budget negotiations of any government since Britain joined the EU. At best we want a cut, at worse, frozen.
"I'm quite prepared to use the veto."
The government faced a rebellion by MPs on Europe last year. Then 81 MPs defied the whips by voting for a public referendum on Britain's membership of the EU. Reports suggested the number of rebel MPs this time will be not be as high.