Jose Maria Olazabel says the memory of Seve Ballesteros played a significant role in Europe retaining the Ryder Cup after a terrific fight back against America in Sunday's singles at Medinah.
After trailing 10-6 following Saturday's foursomes and fourballs, an Ian Poulter inspired Europe claimed eight ½ points from the singles matches on the final day to topple their US counterparts.
Olazabel instilled a belief in his players built on the resilience shown by Ballesteros during his playing days, and the captain says his great friend played an important part in claiming victory.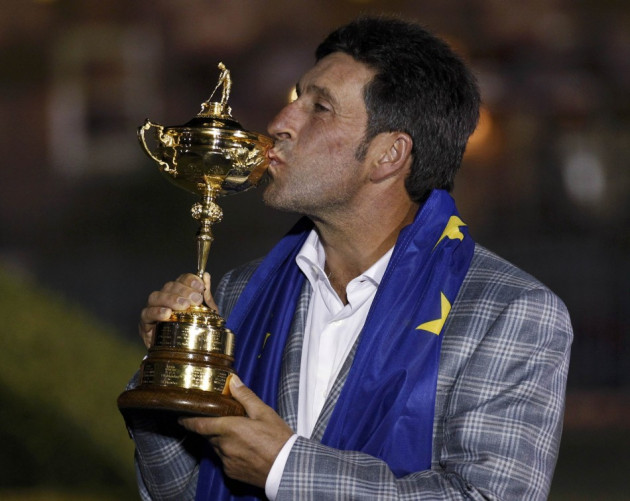 "Obviously Seve has been on my mind the whole week, actually on the whole journey of the Ryder Cup," Olazabal said. "I had Seve in my mind every day and when we managed to retain the trophy, all those memories were very vividly coming to life.
"In my career, I think this ranks No. 1." said Olazabal, who has claimed two Masters titles and been on the winning side in a Ryder Cup four times during his playing career. "It is going to take a little while for it to completely sink in. All credit to the players.
"It's been a very emotional week, especially when things were not going our way, but yesterday everything turned round for us.
"It's completely different from playing, being a Ryder Cup captain. I think in my career it ranks number one."
Having gained momentum during Saturday fourballs, which saw Poulter produce a startling performance to keep Europe in the hunt, the visitors seized the initiative on day three with a string of early victories.
Luke Donald and Paul Lawrie led the way, following by Rory McIlroy and Poulter, before Justin Rose produced two inspired birdies to beat Phil Mickelson, who had been one up with two to play.
Sergio Garcia was then able to beat Jim Furyk on the 18th to grab another point, while Martin Kaymer was left to hole the winning putt, to spark scenes of wild celebration.
And the Spanish skipper rewinds to Poulter's remarkable performance in Saturday's fourballs, where he and McIlroy defeated Jason Dufner and Zach Johnson, which sparked the record-breaking comeback.
"The most important part of the week was Saturday afternoon," he said. "That session was crucial and I think the players got the feeling of the atmosphere of the Ryder Cup.
"Down the stretch the crowds were very loud, but we managed to turn the tide that afternoon session, and I think that was key.
"The way those last two matches went turned around the whole context of the Ryder Cup."