Europe v Trump: Iran signs oil deal with UK as John Bolton threatens sanctions
Tensions mount between Europe and Donald Trump's White House over Iran sanctions.
Iranian state TV has reported the country has signed an agreement with a British consortium to develop an oil field, just as another major company, France's Total, says it will withdraw from Iran because of renewed U.S. sanctions.
The new agreement is the first between Iran and a company from a key Western ally of the United States since Washington last week announced it will pull out of the landmark 2015 nuclear deal between Iran and world powers.
The U.S. said it would reinstate sanctions that were lifted under the deal, which would potentially bar European companies from doing business in both the United States and Iran.
Officials from Pergas International Consortium and National Iranian South Oil Co. signed a preliminary deal on the partnership in the presence of the British ambassador in Tehran late Wednesday.
The project would entail the investment of $1 billion to produce 200,000 barrels of crude oil per day during the next decade in the 55-year-old Karanj oil field, which currently produces 120,000 barrels a day.
The U.S. sanctions aim to limit companies from any country from dealing with Iran by prohibiting them from using American banks in their operations. Pergas seems to do little business in the U.S., potentially giving it more freedom to operate in Iran.
French oil and gas giant Total has decided to cancel a multi-billion-dollar project in Iran unless it is granted a waiver by U.S. authorities. The group said in a statement Wednesday that it "cannot afford to be exposed to any secondary sanction" including the loss of financing by American banks.
Total wants U.S. and French authorities to examine the possibility of a specific project waiver.
The 2017 contract for new development at the vast South Pars gas field was the first major gas deal signed with Iran following the 2015 nuclear deal.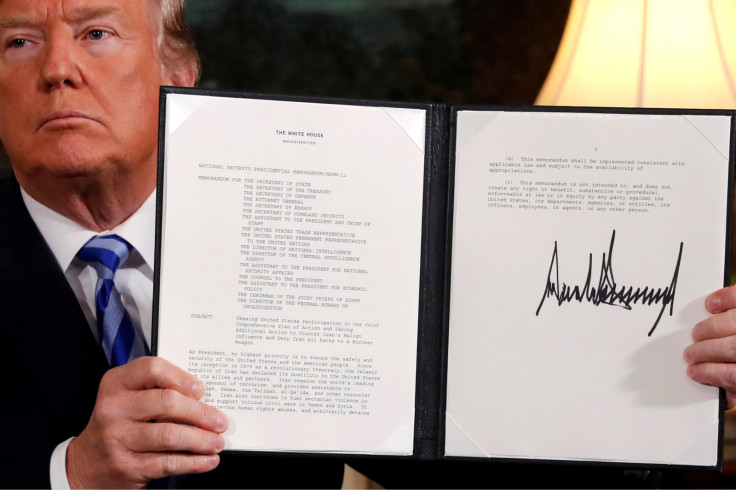 The growing tensions over Trump's decision to pull out of the Iran deal is threatening to put unprecedented strain on the post-war alliance between the U.S and the western European democracies. On Wednesday, the hawkish White House National Security Adviser, John Bolton said it's "possible" the United States would impose sanctions on European companies that continue to do business with Iran, following the U.S. government's decision to leave the Iran nuclear deal.
In the CNN interview he went on to say it was dependent on "the conduct of other governments."
By contrast, a former member of Trump inner circle, Rex Tillerson, took a veiled shot at his former boss for playing fast-and-lose with the trusted allies of America. The former ExxonMobil CEO was U.S. secretary of state before being fired over Twitter by President Trump.
Tillerson did not mention the president by name but alluded to policies of the Trump administration by decrying those who neglect or ignore long-standing allies or deny that free trade is an engine of global growth.
"We must never take these long-held allies for granted," he told to graduates of the Virginia Military Institute, in an apparent reference to Trump overruling the advice of his former top diplomat and others over Iran and threatening import tariffs.
Meanwhile, European countries are considering dumping the dollar in favour of the euro when it comes to making payments to Iran for its crude oil, Russian media reported, citing a diplomatic source who had knowledge of the development.
"I'm privy to the information that the EU is going to shift from dollar to euro to pay for crude from Iran," the diplomatic source reportedly told Russian news agency RIA Novosti.
The European Union has been trying to avoid that scenario, and EU foreign policy chief Federica Mogherini said Tuesday that bloc and Iran had agreed to devise practical workarounds to the United States' unilateral withdrawal from the deal.
"We're not naive and know it will be difficult for all sides," Mogherini said, adding: "We know it's a difficult task but we are determined to do it and we have started to work to put in place measures that help ensure this happens."
Crude oil prices have been historically pegged to the dollar on international markets, and therefore, any attempt to circumvent the dollar as payment for crude oil would be difficult for anyone buying it from Iran.
About 450,000 barrels per day of crude oil is exported by Iran to Europe, while another 1.8 million bpd or so is exported to Asia, according to Iran's Press TV. The biggest importer of Iranian oil is China. There are also efforts being made by China, the world's second largest economy, to trade oil in yuan, especially since the country launched its own trading of oil futures.
As concerns mounted over the oil supply as geopolitical tensions in the Middle East continue to rise Brent crude has hit $80 per barrel for the first time since November 2014.
Major European powers and Tehran committed this week to keep working together to save the Iran nuclear deal. But President Emmanuel Macron made it clear Thursday that France will not get into a trade war against the U.S., despite Paris' disapproval of President Donald Trump's decision to scrap the nuclear deal.
"We're not going to choose one camp over another. We're not going to be the allies of Iran against the United States of America", Macron said in a news conference in Sofia, Bulgaria.
"What I want to do is to be able to provide all guarantees for all the businesses that would like to stay in Iran to be able to do so," he said. "But we're not going to impose French businesses to stay in Iran. The President of the French Republic in not the CEO of Total!"
Macron said the U.S. decision to exit the deal would benefit Russian and Chinese companies doing business with Iran at the expense of Western firms, but he insisted France's priority is to preserve peace and stability in the region.
© Copyright IBTimes 2023. All rights reserved.