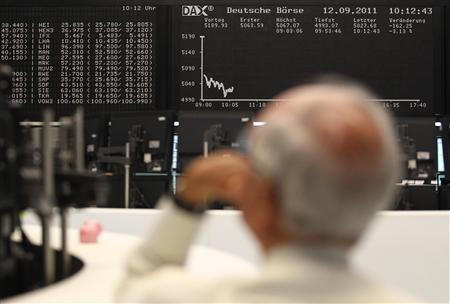 European stocks eased in the opening minutes of trade as World Bank's economic outlook downgrade sparked fresh global growth concerns.
The FTSEurofirst 300 index covering the region's blue-chip stocks fell 0.1 percent to 1,159.19. The UK's FTSE 100 eased 0.2 percent while Italy's FTSE MIB dropped 0.3 percent. Spain's IBEX slipped 0.1 percent.
In Germany, the DAX fell 0.2 percent while France's CAC-40 remained little changed.
The single currency eased moderately against the dollar, trading at about $1.32.
Most Asian markets had ended lower earlier as the recent gains spurred market overheating concerns and the Yen strengthened from its multi-year lows.
Japan's Nikkei ended 2.56 percent lower to 10600.44 while China's Shanghai Composite Index closed 0.70 percent down to 2309.50. Hong Kong's Hang Seng dropped 0.4 percent to 23289.10 towards close.
In South Korea, KOSPI fell 0.32 percent to 1977.45. Australia's S&P/ASX 200 bucked the trend, adding 0.46 percent to 4738.40.
Global economic concerns returned to haunt markets after the World Bank slashed its 2013 economic outlook citing the stubborn slow recovery in developed economies. The international lender predicted the world economy to expand at 2.4 percent this year, downgrading its 3 percent growth estimate made earlier.
The bank said that although the global economy appears to have survived the worst problems, four years after the global financial crisis began, fiscal concerns in high-income economies still remain.
"Policy uncertainty (in the United States) has already dampened growth," the World Bank said.
"Should policymakers fail to agree such measures, a loss of confidence in the currency and an overall increase in market tensions could reduce U.S. and global growth by 2.3 and 1.4 percent respectively."
In Europe, growth concerns rose after official data showed that German economy shrank in the final months of 2012 as subdued external demand and eurozone slowdown hindered activity. The weak performance from eurozone's strongest economy has raised doubts on the bloc's ability to emerge from its financial woes.
Meanwhile, multiple media reports citing German business daily Handelsblatt said that Berlin wants to bring back much of its gold stored in the British, US and French central banks to fulfil the mandates by its national auditors. The Federal Court of Auditors has demanded a stringent audit for German gold stocks in the wake of criticism that much of it is being held overseas.
Japanese investor sentiments weakened, ahead of Bank of Japan's (BoJ) policy meet scheduled for early next week, as the yen rebounded from its southward journey. The currency had plunged to its lowest level in about two and a half years early this week, on hopes that the central bank will raise its inflation targets to 2 percent and take up other measures to boost the economy.
Such stimulus optimism was mainly supported by Japan's newly elected government's strong demands that BoJ should resort to aggressive measures to promote growth. But this week, following a steady plunge in the yen's value, Japanese economy minister said that too much weakness in the currency will increase the cost of imports and impact the economy.