The executive director of the European Travel Commission (ETC) has launched an 18-month plan to target China, Brazil and the US for growth in European tourism, after the region's share of international tourism arrivals fell last year.
In his first set of interviews with the media, newly appointed Eduardo Santander revealed that a detailed plan to bring more tourists from Bric countries, such as China and Brazil, has had to be implemented in order to mitigate falling European market share in the non-domestic tourist market in light of the Eurozone sovereign debt crisis and the global credit crisis.
Santander revealed that while Europe is still trying to fix the economy, following the Eurozone sovereign debt crisis, tourism is a key sector to revamp, as it has "enormous value" to the wider EU economy.
"In 2010 tourism directly produced 5 percent of EU GDP and indirectly 10 percent. International tourism receipts were €306bn and six of the world's top ten tourism destinations by arrivals, and five by receipts, were in Europe. The tourism industry employed 9.7 million people and therefore, a significant improvement in the EU's performance as a destination would help it tackle both its economic and its currency crises," said Santander.
Europe's share of international tourism arrivals fell to 51 percent in 2011, in comparison to 60 percent in 1990, and its share of international tourism receipts fell to 44 percent from 49 percent over the same period.
"We've all been talking about the growth of China across many sectors for the last six years, but in terms of Europe capitalising on tourists from China we still have to tap into the huge potential there," said Santander.
According to Tourism Economics and the ETC, Europe's share of outbound China travel has fallen since 2006 and is predicted to remain flat until 2016, unless new strategies and promotion are put in place [Fig. 1].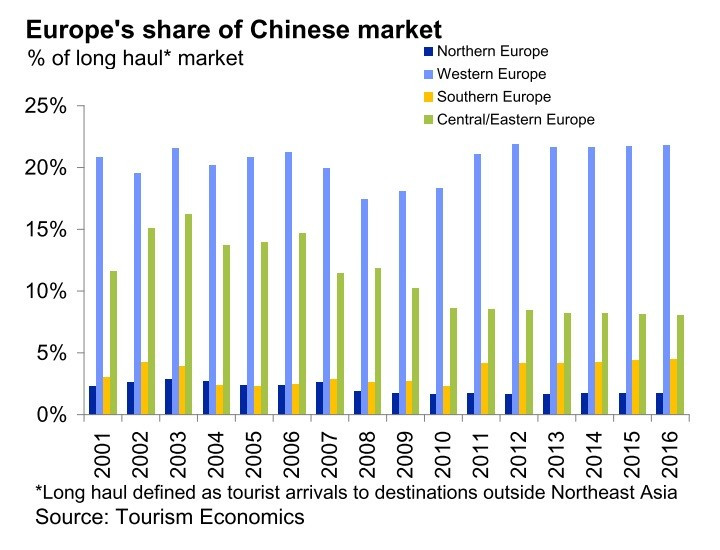 The ETC says 40.1m tourists travelled from China in 2011 but of these 26.2m travelled within Northeast Asia, while 13.8m travelled to long haul destinations last year.
In 2011, Northern Europe only captured 1.8 percent of the Chinese market, while Western Europe's share of the Chinese market was at 21.1 percent in the same year.
Brazil has also been touted as a key area for 'rapid growth'.
Tourism Economics and ETC data shows that while arrivals to Northern Europe are expected to increase by nearly 46 percent through 2016, its actual share of the Brazilian market is forecast to fall to 4.9 percent by that same year [Fig. 2].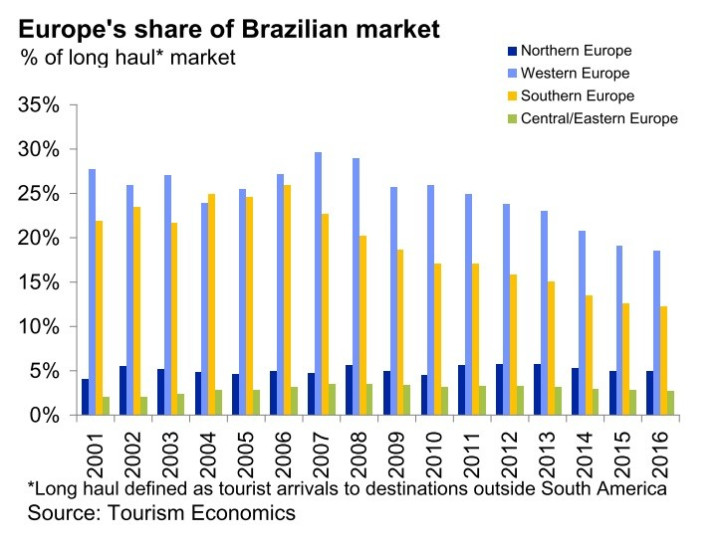 Santander's 18-month programme of activities, supported by the European Commission, is to develop a long-term strategy for bringing more non-domestic tourists to Europe.
This includes marrying up the private sector with governmental initiatives, through market-based thinktanks representing National Tourism Organisations and incumbent companies.
For example, TUI Travel is the only European tour operator to be granted an outbound tour operating licence in China and therefore will be instrumental in helping the ETC to broaden its market share from the region.
For the full in-depth interview and details on Destination Europe 2020, check out our exclusive video Q&A on IBTimes TV or at the top right hand side of the page.