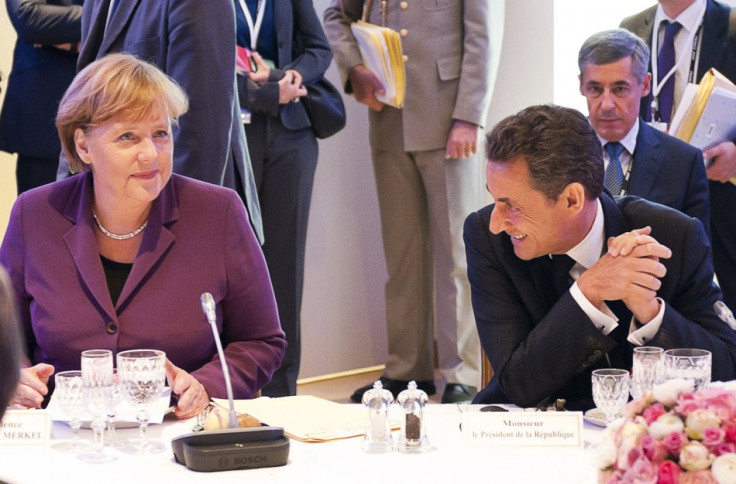 The German government is not pursuing the idea of a smaller and more integrated Europe, according to Steffen Seiber, German Chancellor Angela Merkel's spokesman.
In a clear denial of former reports that Sarkozy and Merkel had been discussing plans for a radical overhaul of the European Union, which would have involved setting a more cohesive euro zone, the German Prime Minister said the government, instead, is seeking to stabilise the Eurozone as a whole.
A senior EU official had told Reuters on Wednesday evening that France and Germany "have had intense consultations on this issue over the last months, at all levels".
"We need to move very cautiously, but the truth is that we need to establish exactly the list of those who don't want to be part of the club and those who simply cannot be part," he said.
Other European leaders expressed serious concerns after Italy's 10-year government bonds interest rates dangerously hit 7 per cent on Wednesday.
UK Prime Minister David Cameron has warned that the Italian crisis represents a "clear and present danger to the Eurozone". "What is happening in Italy is a warning to any country, any government, without a credible plan to deal with excessive debts and excessive deficits," he said during a news conference in London.
Christine Lagarde, head of the International Monetary Fund, demanded political clarity over Italy's situation. "No one exactly understands who is going to come out as the leader," she told reporters in Bejing. "That confusion is particularly conducive to volatility. So from my perspective, political clarity is conducive to more stability and my objective from the Fund's point of view is better and more stability."
Also Commissioner Olli Rehn, EU's vice president for economic and monetary affairs, has discussed Italian crisis. He said that 1 per cent increase in Italian bond yields would wipe 1 per cent off the country's GDP after three years.
Italy has managed to find buyers for the full €5bn-worth of 1-year bonds on Thursday morning. However, the interest rate has soared. Italy agreed to pay a yield of 6.087 per cent on the debt, which represents a 3.57 per cent increase in similar auction in October.