Eurozone Crisis: The Hidden Hand of Goldman Sachs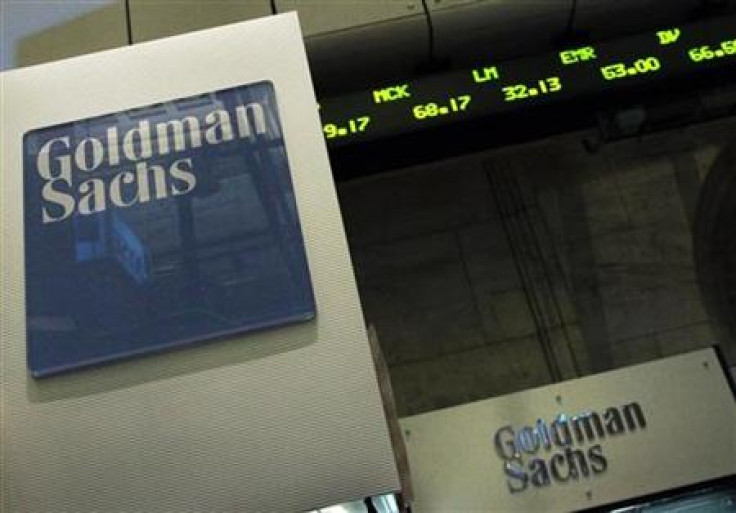 Europe's key crisis figures have all Goldman Sachs in their pedigree. Is it just a coincidence or is the financial world is trying to take over Europe?
In the last few weeks, two experienced politicians, among the last political survivors of our age, have been swept away by the Eurozone crisis. First George Papandreou, the calm and thoughtful heir of a political dynasty in Greece; then flamboyant Silvio Berlusconi, who has been dominating Italian politics for 20 years.
Many people may just think their time had come. But a closer look to the people who have been designed to take their place casts a sinister, threatening shadow on the status of international diplomacy in Europe.
Lucas Papademos, the new Greek Prime Minister, is a former European Central Bank vice-president under Jean-Claude Trichet. He was previously involved in Greece's transition from the drachma to the euro as Governor of the national bank. This transition was aided by Goldman Sachs, the global investment bank whose influence in high US government circles has been much commented on in Washington since the beginning of the financial crisis in 2007.
But according to some economic experts and commentators, it is not just a coincidence that other Europe's key crisis figures are "Goldman guys".
The new head of the European Central Bank and former director general of the Italian Treasury is Mario Draghi, who worked for Goldman Sachs International as vice chairman and managing director. Also the man who will probably take over Berlusconi's administration, "Super Mario" Monti, as he was nicknamed, is on the Goldman Sachs payroll. A highly-respected economist and former European Commissioner, Monti studied in the United States, at Yale, just like his colleague Papademos, who was formed at Harvard. Monti is still listed as "an international advisor to Goldman Sachs" in his official biography on the website of the European Commission.
He is "part of what one can rightly refer to as a 'financial mafia' that wrecked the world economy since 2008," says one critic, Marshall Auerback of Madison Street Partners, a Denver-based fund manager who closely follows Europe. "These hatchet men of this murky and opaque financial world are now being appointed to implement austerity on poor working households to save the financial sector from a debt deflation-an artificial crisis created because of the architecture of the euro system."
According to many experts, what is taking place is nothing less than a financial coup d'état by the Eurozone's banker class. "Is it just a coincidence that some of Europe's key crisis figures are Goldman guys?" asks Michael Hirsh on the National Journal. "Nope. It's probably one of the reasons we're in this mess."
Goldman Sachs and other top Wall Street firms used a strategy of using arcane derivatives to disguise debt, argues Hirsh, when countries such as Greece and Italy were eager to join the Euro but could not reach the standards of budget discipline imposed by the Maastricht Treaty.
Major figures from Goldman Sachs such as Robert Rubin and Hank Paulson fought in the 1990s and through the mid-2000s against derivatives regulation and lobbied for higher leverage ratios so they could bet on the market boom. After the financial crack, two former Goldman men were appointed to fix the mess their colleagues had created: Steven Shafran and Bill Dudley, Hirsh reports.
Mario Monti, in particular, has been described as "a conspiracy theorist's come true". Indeed, he is the European Chairman of the elusive Trilateral Commission and a member of the Bilderberg Group. The Trilateral Commission is formally a non-governmental discussion group founded by David Rockefeller in 1973. However, many thinkers and politicians have criticised the commission over the years, especially for suggesting there was "an excess of democracy in the 1960" with the report "The Crisis of Democracy".
"The Trilateral Commission is a sort of a European, American and Japanese ultra-liberalistic masonry inspired by David Rockefeller and Henry Kissinger," said Piergiorgio Odifreddi, Italian mathematician and political commentator for La Repubblica.
Monti is also member of the Aspen institute, a highly reserved, financial think-tank funded by Rockefeller Brothers Fund e and Ford foundation, which includes members across the Italian political spectrum.
However, other journalists are more cautious in assessing the situation. "If nothing else, it's certainly a triumph of capitalism over democracy," says Harold Meyerson on The American Prospect.
© Copyright IBTimes 2023. All rights reserved.