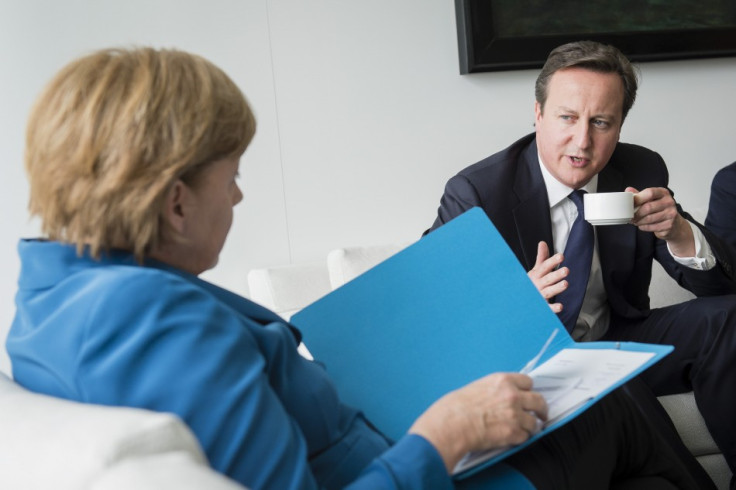 German Chancellor Angela Merkel sought a gradual political union to defuse the present crisis in the eurozone as European leaders are set to meet in Brussels for the next summit.
In an interview to Germany's ARD network on Thursday, Merkel urged the countries to give up more powers to Europe "step by step," and said the focus should be beyond a single currency union.
"We need not just a currency union; we also need so-called fiscal union, more common budget policies. And we need above all a political union. That means that we must, step by step as things go forward, give up powers to Europe as well," Merkel told ARD's Breakfast Show on Thursday.
"Without solid finances, there is no growth, but solid finances alone are not enough; there are other points - above all, questions of competitiveness," she added.
But she did not elaborate on how to reach such a political integration.
British Prime Minister David Cameron dismissed the suggestion as "nonsense," according to a Telegraph report.
"I have no doubt that eurozone countries want deeper integration. But Britain will not participate in this integration," said Cameron in Berlin.
"I understand why single currency countries have to look at deeper integration. What I will do is make sure that Britain's interest, particularly in the single market, is protected. I am convinced that as Europe develops, we can protect Britain's interests in a proper way," said Cameron during a joint press conference after a visit to the chancellery.
Meanwhile, Merkel doubted any breakthrough to occur at the Brussels summit of the European leaders which is scheduled to be held from 28-29 June.
"I don't believe that there will be one single summit that will decide on a big bang. But what we have been doing for some time, and on which a working plan will certainly be presented in June, is to say we need more Europe," said Merkel.
Financial or banking union of the region is one area which is pushed by other euro nations as a way out of the crisis and they are pressing Germany to accept the new measures.
Berlin has so far maintained its reluctance to accept the idea of jointly issued Eurobonds. Instead, it has insisted on strict austerity measures to be implemented by the weak economies in the region.