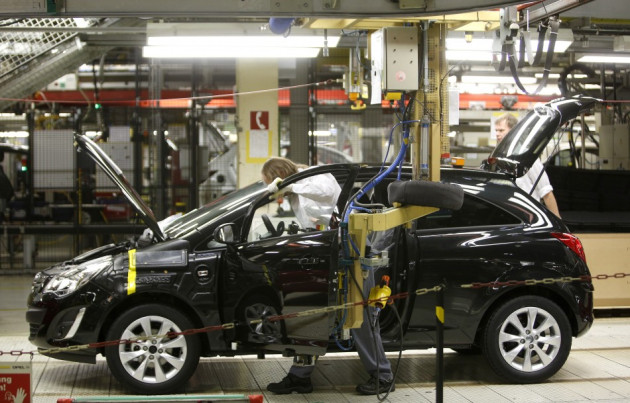 Germany's rapidly improving economic recovery may not be strong enough to pull the Eurozone out of recession as data suggests evidence of a "three-speed" Europe after disappointing manufacturing figures from France and record unemployment in Spain.
The foundations of a Eurozone recovery improved in January, however, as the Markit Economics series of Purchasing Managers Index data for January, which surveys around 5,000 firms across the 17 member nations that use the single currency, showed an increase in activity for both the manufacturing and services sectors of the economy from the final readings in December.
On a composite basis, Markit's key PMI reading was indicated at 48.2, fully one point higher than in the previous month but still well below the threshold of 50 which separates growth and contraction.
"There is a turning point that took place towards the end of last year and the beginning of this year so things are picking up," said Markit's chief economist Chris Williamson. "Any downturn is looking likely to end in the first half - But (the data) is still consistent with GDP falling at a quarterly rate of about 0.2 percent to 0.3 percent."
The figures contrast sharply with data from Germany, where the services sector in Europe's largest economy grew the most in at least a year. The composite reading, which measures both services and manufacturing, surged to 53.6 from a reading of 50.3 in the previous month.
The International Monetary Fund's World Economic Outlook hived its forecast for German and Eurozone growth for this year by 0.3 percent Wednesday, suggesting that Germany's modest 0.6 percent advance won't be enough to pull the bloc out of recession. A Eurozone recovery, however, is expected for next year with 1 percent growth pegged by the Fund.
What may concern investors in the coming months, however, is the pace at which many of the Eurozone nations appear to be separating in terms of their growth prospects.
Data from France, the Eurozone's second-biggest economy, showed this month's manufacturing activity at 42.9, its lowest point in three years. Markit's composite reading for January fell to 42.7 from a December tally of 44.6 and points to a deeper-than-expected contraction in first quarter GDP.
"Trends also remained worryingly divergent within the single currency area, creating tensions for policymakers. While Germany is reporting a strengthening upturn, France is seeing the steepest downturn since early-2009," said Markit's Williamson.
France, the IMF says, will likely grow by 0.3 percent this year and 0.9 percent in 2014.
"The latest PMIs for the euro area painted a picture ofmarkedly divergent fortunes between Germany and France," said Societe Generale economist James Nixon in a research note. "We continue to think this probably reflects France's greater exposure to Spain and Italy while German performance is more closely geared to global activity."
In Italy, retail sales fell for the fifth consecutive month in November, according to data from ISTAT, the official statistics office, and declined by at least 3.1 perncet from the same period last year. ISTAT also revised its reading of October sales lower, indicating a 1.3 percent fall from a previous estimate of a 1 percent decline.
Italy's economy is likely to contract by at least 1 percent this year, the IMF has forecast, extending the country's third recession in the last decade to at least 2014.
There was equally grim data from the so-called periphery of the Eurozone, where Spanish unemployment hit an all-time high of 26.02 percent according to data from the National Statistics Institute. Just under 6 million people were out of work at the end of last year, the statistics office said, with youth unemployment surging to a breath-taking 60 percent.
Spain's economy is likely to remained mired in recession this year after the Bank of Spain said last year's contraction was likely -1.3 percent. The IMF is forecasting a 1.5 percent contraction this year. Further weakness will make the government's pledge to reduce its budget deficit to 6 percent of GDP this year increasingly difficult. The European Commission has already warned that Spain is unlikely to have met its 6.3 percent target for 2012.