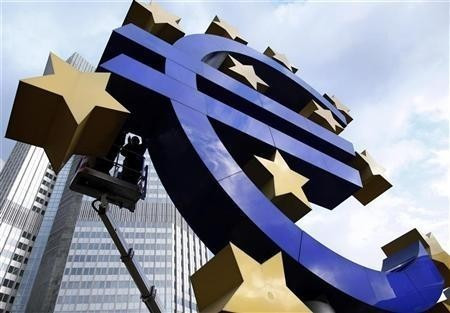 The number of jobless people in the eurozone declined for the first time in more than two and a half years but still remains at a record high.
According to official data from Eurostat, the statistical office of the European Union (EU), the number of unemployed people in the 17-nation region decreased by 24,000 in June to 19.3 million from the previous month. This is the first decline since April 2011.
In the larger 27-nation EU, the jobless rate also declined to 10.9%, from 11.0% in May. This was the first fall in the rate since January 2011.
"Unemployment figures remain horrendously high," said a spokesman for the European Commission.
"There is a cure for this, but it's not a miracle cure."
The unemployment rate remained stable at 12.1% in June for the fourth consecutive month. Analysts expected the rate to rise slightly to 12.2%.
The unemployment rate fell in the some of the most beleaguered countries, such as Portugal, Spain and Ireland. However, Greece and Cyprus jobless rates have risen as the countries are forced to axe even more jobs and spending in order to obtain emergency funds from its creditors.
"In our view, structural reforms should gradually start to bear fruits, and this should be reflected in a moderate rebound in job creation coming from countries where labour market reforms have been implemented in the past few years, particularly Spain," sais Barclays analysts in a research note.
"Nonetheless, we think that job creation will be muted overall, as private sector enterprises are likely to take advantage of the gradual recovery to regain productivity and restore profit margin. Thus, we look for unemployment to continue to increase until mid-2014."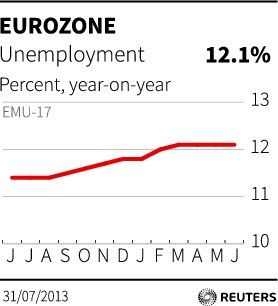 Economic Rebound
The single-currency region fell into recession in 2011 on the back of big fiscal deficits, budget cuts and falling business confidence in member countries as well as the threat of a eurozone break up.
The region's unemployment rate subsequently rocketed to record highs with Greece leading the pack for having over a quarter of its nation without a job.
However, there have been a raft of recent signs that the economy is coming out of its longest recession, since the single currency region was formed.
Both manufacturing and services industries has shown an increase in activity during July, according to the purchasing managers' index compiled by Markit.
In addition, economic morale has improved after the European Central Bank (ECB) pledged support the eurozone and soften harsh austerity measures.
However, economists believe that any possible recovery will be weak in the near term, given the growth-sapping austerity measures undertaken by the member governments.
In addition, companies in the region are struggling to obtain finance for business expansion due to a troubled banking system across the region.