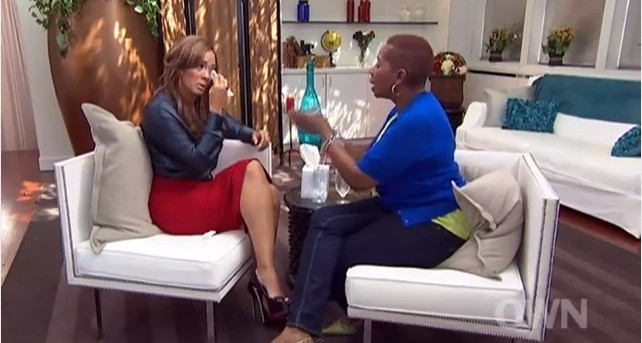 Evelyn Lozada has alleged that her estranged husband, Chad Johnson, physically abused her before they got married.
The Basketball Wives star, who called time on her 44-day marriage to Johnson after the athlete allegedly headbutted her during a heated argument, claimed she was abused throughout their relationship.
In an emotional appearance on Iyanla: Fix My Life, she told life coach Iyanla Vanzant that the incident was not the first time the former Miami Dolphins receiver had been "inappropriate" with her.
She said that instead of dealing with the problems between them she chose to deny and dismiss the "infidelity, arguing, the 'physical'" and still married him.
However, when pushed to talk in more detail about the abuse, she declined, claiming that she wished to protect Johnson's children.
"I don't want to get into detail. That's hard for me to take about. You know why? Because I still speak to his daughter and kids.
"That's what hurts the most. That people associate me on Basketball Wives with this situation and make it that that justifies his actions," she told Vanzant.
Her apparent admission came just days after a source told Radar Online that Johnson had been an abusive partner.
"Chad has been abusive toward Evelyn from the beginning of their relationship," a source told Radad Online "[The] marriage was volatile in nature and a mistake from the start."
The couple, who tied the knot on 4 July, made headlines after Johnson, 34, was arrested for allegedly attacking her outside their Miami home after she confronted him about a condom receipt she found in the boot of their car.
Hours after his arrest, Johnson - who changed his surname to Ochocinco in 2008 before reverting to the original in July 2012 - was dropped by the Miami Dolphins.
In the wake of the incident, Lozada, known for her violent and aggressive behaviour on Basketball Wives, enlisted the help of Vanzant to help her deal with her anger problems.
In a previous episode she apologised to her stepdaughters for her behaviour and not being a positive role model for the young ladies who look up to her.