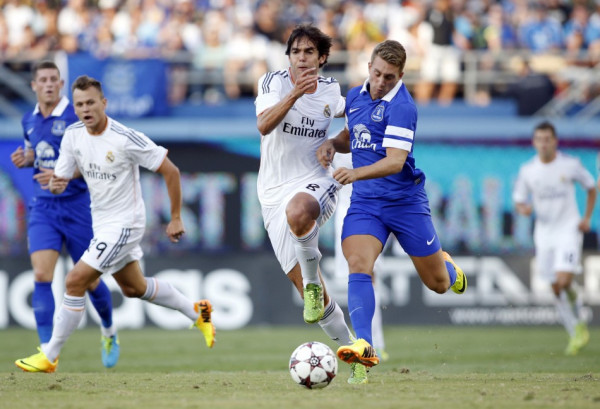 Everton's Gerard Deulofeu does not want to compare himself with Lionel Messi - even though many in Spain see the young winger as the heir to the Argentina star.
Deulofeu is on loan at Goodison from Barcelona, where he graduated from the same youth system that produced Messi. But he says he is determined to be his own man.
"I am not Leo Messi. I am Gerard Deulofeu. I am very young and I have to work very hard to achieve my targets", the 19-year-old told Spanish Radio station La Xarxa.
Deulofeu is struggling to get a place in the Everton starting line-up this season, having made just nine appearances, scoring once in the Capital One Cup. But he is happy with his new life in England and thrilled by the atmosphere at games.
"I am very quiet, I'm adapting to the Premier League and I know that everything will go well" Deulofeu told Spanish TV Cuatro.
"I relish taking to the field in the Premier League. If I were a supporter I would pay good money to watch it. The passion of the fans in England is spectacular and, to be honest, Spain cannot compete with it."
Roberto Martinez has given Deulofeu the opportunity to play as a substitute in the last few matches, and Everton's Spanish manager has even admitted that Deulofeu could play a part in the Merseyside derby against Liverpool, which takes place after the national team Break.
"I would have no concerns about putting him in against Liverpool. When you are able to play against [Tottenham defender] Jan Vertonghen, and to cope with that, then it shows you he is ready for anything." Martinez told the Liverpool Echo.
Deulofeu is one of the most promising players in Spain and last year he scored 18 goals for Barcelona B team, which plays in the country's Second Division. During the summer he accepted moving to Everton on loan to grow as a player but his dream for the future is still to succeed at Barcelona.
"If all goes well my goal is to return to Barcelona and be there the maximum possible years" He said.