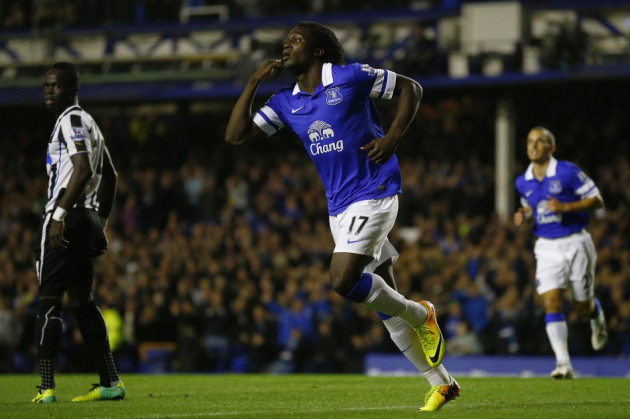 Barkley Can Flourish Under Martinez Guidance
Ross Barkley may have made his Everton debut more than two years ago but it is only now that he is beginning to demonstrate his true potential. The powerful central midfielder must have felt a weight of expectation on his young shoulders when he first came into the side, having been repeatedly compared to Wayne Rooney, despite playing a deeper role. There was talk of interest from Manchester United and Chelsea but David Moyes choose to keep him out of the spotlight. After loans to Sheffield Wednesday and Leeds United he is now flourishing.
He has undoubtedly matured and Martinez knows he has a real gem of a player. With James McCarthy and Gareth Barry patrolling the midfield, it allows Barkley to express himself in an advanced position. Something that will benefit Everton, and some day soon, England. Martinez described him as a "diamond of English football" but warned he still has a lot to learn. When he's the finished article he will be some player and Everton will just hope they can keep him.
Disturbing Displays Leave Pardew Feeling Down
Alan Pardew must wonder what has happened over the course of the last 12 months. He was on a high when helping Newcastle finish fifth and being recognised as the manager of the season. Since then there have been very few positive moments as the club narrowly avoided relegation, before enduring a summer to forget as just one senior player arrived. Loic Remy has impressed but it has been a difficult start to the season for Pardew.
In the first half they were simply not at the races as Everton passed the ball at will and carved apart the Newcastle defence with relative ease. Pardew said he was "disturbed" by the performance and he looked increasingly worried while prowling the touchline. Despite Joe Kinnear supposedly coming in to help with transfers, the criticism will always fall on the former West Ham boss and he may well question whether he wants to remain at the club.
Why Did Mourinho Let Lukaku Leave?
Jose Mourinho has endured a mixed start after his triumphant return to Chelsea as Fernando Torres and Samuel Eto'o have struggled to find the back of the net. The side is crying out for a physical presence like that of Didier Drogba, yet for some reason Drogba Mark II was allowed to leave the club. Romelu Lukaku showed last season he could score goals in the Premier League and Everton are now the ones profiting from his powerful displays.
The Newcastle defence simply could not handle his physical nature, with Martinez declaring that he was simply "unplayable". He scored two and provided an assist for Barkley, further proof that he is ready to lead the line for Chelsea. Why he was allowed to leave is incredulous, but Everton supporters will certainly not be complaining.
Are Everton Contenders for a Top Four Finish?
Former Liverpool defender Jamie Carragher paid the biggest tribute possible to Everton after their impressive performance against Newcastle by suggesting they could break into the top four. It must have hurtthe dedicated Red to talk about the Toffees in that way but so impressed was he with their display that he suggested they could make the Champions League.
Everton are the only undefeated side in the Premier League and under Martinez they are playing a brand of exciting football. With Lukaku in their ranks they have a genuine goalscorer, while an always solid defence has been bolstered with the addition of Gareth Barry who helps snuff out attacks higher up the pitch. James McCarthy has been a revelation, while Barkley is finally demonstrating his undeniable talent on a regular basis. Perhaps we could have seven teams competing for just four places come the end of the season.