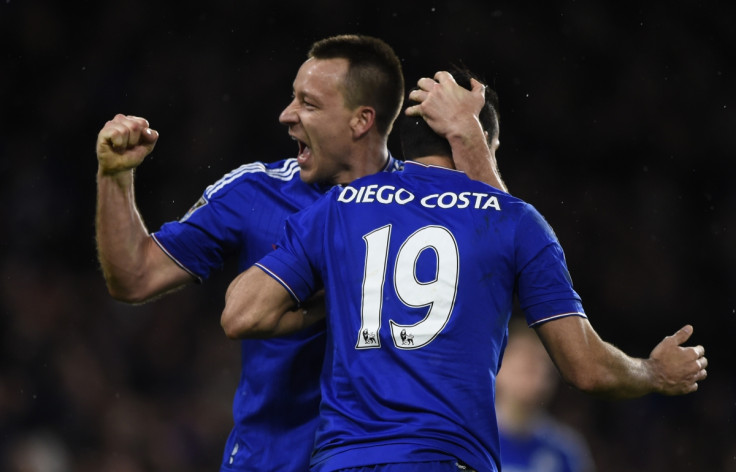 Chelsea captain John Terry is in contention to make his long-awaited return from a hamstring injury in the FA Cup quarter-final against Everton at Goodison Park. The former England skipper has not played for nearly a month after going off against Newcastle United, but will travel to Merseyside on the eve of the cup game before his fitness is assessed.
Eden Hazard is also available despite limping off in the Champions League last-16 second-leg defeat to Paris Saint-Germain with the recurrence of a hip injury. The Belgium international was replaced with 13 minutes left, a moment met by a chorus of boos by the Stamford Bridge faithful but is set to feature this weekend.
Diego Costa – who was also substituted during the 2-1 loss – is suffering from hamstring and hip issues and is a doubt for the game, however he is likely to travel with the remainder of the Chelsea squad. That group will include skipper Terry after he made progress in his recovery from a hamstring issue this week.
"He worked rather well the past days and he will be included in the list to travel," Hiddink told reporters. "He has not practised a lot in the recent weeks and days but it was a little bit intensified the last two days and today we will see if he has a big reaction from yesterday's training. I would like him to travel to Liverpool.
"[Hazard] is not absent from injury," the interim Chelsea boss added, following comments from the player's father over his physical state. "You have an injury when you cannot play and you have an injury when you can play but you're not fully fit and that also an influence on the freshness. There are worries there, it is true. He will be OK, he will be available and he is himself. Now and again I talk to my players and he is desperate to participate in a team performance.
"Some players go through some difficult times. Although they are trying and that is what he is doing as well. Sometimes you have to tell players 'if you don't feel well don't go on the pitch'. He likes to be on the pitch. Sometimes you think you have to do more in training, work even harder but I checked yesterday afternoon with the physiologists and analysts.
"I try to exclude a lot of emotion. His work rate is OK and when I see the figures, because we can measure that without any emotion, the intention in training is not of a man who is not sure of himself. We have to find another entrance to get him onto his level. Working harder is possible. A few days off might help so we will try to find the way to get him on the level.
"[Costa] went off [in Chelsea's defeat to PSG] and had a more problems yesterday. Rest, treatment, this morning it was the same. We will see how he will be, I cannot say at this moment. It is in his hip as well."