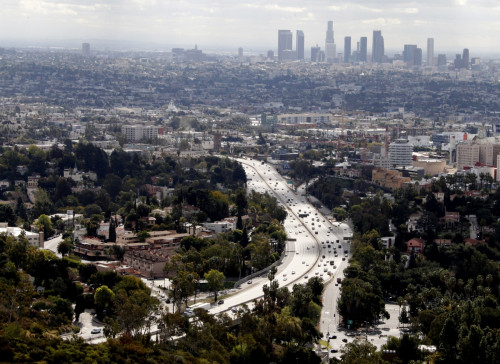 A former senior executive at Deutsche Bank is battling to block the release of a tape, which allegedly airs his admission of using the 'bath salts' drug, in court as he sues two police officers and the city of Los Angeles for a brutal beating.
Brian Mulligan is seeking $20m in damages from LA as well as James Nichols and John Miller, over claims he was beaten so badly he required emergency facial surgery.
However, US District Judge Gary Klausner in Los Angeles is scheduled to decide on 21 January whether the jury will hear a recorded conversation between Mulligan and a police officer, where he allegedly admits to using the synthetic drug at least 20 times in the preceding six months.
At the start of the trial the jury has to decide whether the policemen used excessive force, and if Mulligan wins on that claim.
The jury will then consider whether the city is liable for negligence, based on separate misconduct allegations that were made against Nichols, and what damages Mulligan deserves.
The alleged beating took place on 15 May 2012. Seven months after the incident Mulligan, a former vice chairman of media and telecommunications investment banking at Deutsche Bank, lost his job.
Weeks after this, the Police Protective League provided media with the audio recording of Mulligan asking a police officer in Glendale, California, for advice about 'White Lightning.'
While Mulligan, 54, is trying to block the tape release, the defence is vying for its airing because they claim that it proves the same "bizarre and paranoid behaviour" he exhibited on the night of the alleged beating at Eagle Rock neighbourhood north of downtown LA.
Police also claim on the night of the alleged incident that they received 911 calls from people in the neighbourhood over his behaviour and they picked him up at a college campus.
According to the US Drug Enforcement Administration, bath salts can have similar effects as amphetamines and can cause insomnia, paranoia, delusions and panic attacks.
The Prosecution
Mulligan is trying to block the tape because he claims that the recording unfairly portrays him as a "crazy" drug addict. He vehemently denies this.
He also said that the tape has no probative value because he has already acknowledged in pretrial questioning that he used bath salts 20 times from November 2011 to April 2012.
The alleged police beating took place one month after this admission.
He claims he was seeking to buy gel caps containing tetrahydrocannabinol, the active ingredient of marijuana, from a licensed medical marijuana dispensary in Eagle Rock.
However, Mulligan claims that around 10:20 pm he encountered the police officers, who had received calls about a man fitting his description.
He said he wasn't intoxicated and wasn't committing a crime but Nichols and Miller drove him in handcuffs to his car, which was parked near the dispensary.
Mulligan then claims that after the police officers searched his car they refused to let him call a taxi or his wife and took him to a motel where they threatened him with obscenity told him he'd be "dead" if he left.
According to his complaint, Mulligan left the motel after the police had gone, and was walking down the street when the police spotted him and proceeded in chasing him.
Mulligan then claims that they caught him and Nichols hit him in the face with his baton, shattering his nose and then after handcuffing him, the same officer broke his shoulder blade while he was sitting on the curb.
The Defence

Judge Klausner threw out Mulligan's false imprisonment and police negligence claims in December last year, on the basis of insufficient evidence, while also throwing out a retaliation claim against LA.
However, Mulligan was allowed to go to trial a negligent supervision claim against LA city as there is evidence of other allegations of misconduct made against Nichols.
In the defence's court papers, the officers claimed they were responding to 911 calls about a white male wearing a pink shirt and khaki pants trying to break into cars.
They claim that Mulligan was "dishevelled," sweating profusely and didn't appear to know where he was when they found him roaming the campus of Occidental College in Eagle Rock.
The officers say they took him to the motel on Mulligan's request and believed he wasn't fit to drive because of his confused state.
According to court papers, the police officers then claim that Mulligan was spotted an hour and a half later dragging a metal trash can across the street and tried to enter a minivan that was stopped at a traffic light, despite orders for him to get out the street.
They also said in court documents that "all force used on Mulligan was consistent with their police training, and was reasonable in light of Mulligan's aggressive and combative actions" after they claimed that Mulligan lunged at one of them, continued to kick the officers after he had fallen to the ground, and was trying to spit at them and bite them.
The case is Mulligan v. Nichols, 2:13-cv-00836, U.S. District Court, Central District of California (Los Angeles).