Ex-PM John Major tries to stop Theresa May making DUP deal with Northern Ireland warning
"My main concern certainly is the peace process," the Conservative grandee said.
Former UK Prime Minister Sir John Major has urged Theresa May to pull out of negotiations with the Democratic Unionist Party (DUP), warning that a proposed alliance with the Conservatives could undermine the "fragile" peace process in Northern Ireland.
"I am concerned about the deal. I am wary about it. I am dubious about it. Both for peace process reasons, but also for other reasons as well," the Tory grandee told BBC Radio 4's World at One show.
"That said, all my life I have been a Conservative, I very much want Mrs May to succeed as prime minister and to stay as prime minister and I understand why she wishes to shore up her parliamentary position.
"That is entirely understandable and I sympathise, but my main concern certainly is the peace process."
Major stressed that a "fundamental part" of the peace and the 1998 Good Friday Agreement is that the UK government needs to be an impartial broker between "competing interests" in Northern Ireland.
"That was always the intention right from the start of negotiations," he said. "The danger is that however much any government tries they will not be seen to be impartial if they're locked into a parliamentary deal at Westminster with one of the Northern Ireland parties."
Major's intervention came as DUP leader Arlene Foster met with Theresa May in Downing Street to talk over the pact. But the talks ended without an agreement, with further talks expected between the parties this week.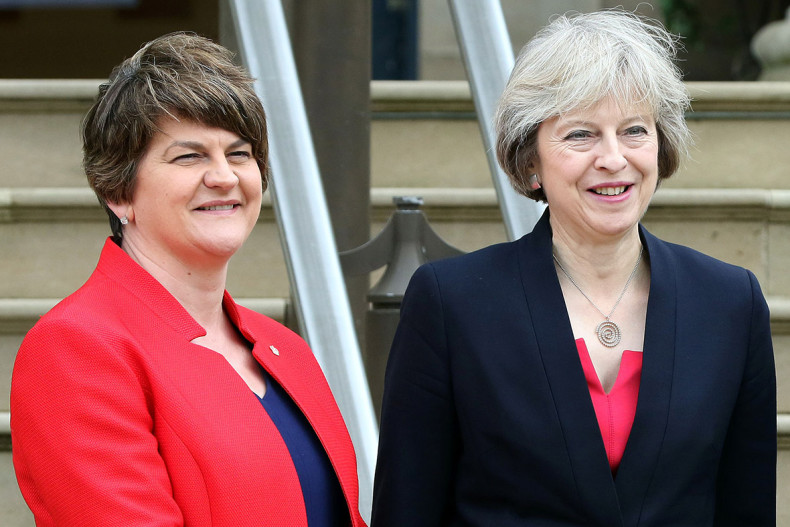 Sinn Féin, meanwhile, have ruled out taking their seven seats at the UK House of Commons. "We elect our members on an abstentionist policy, we wouldn't betray the electorate," a party spokesperson told IBTimes UK.
But the MPs are expected to attend a House of Commons induction day organised by the Independent Parliamentary Standards Authority (Ipsa).
Although the MPs do not take The Queen's oath and £75,000-per-year salaries, Sinn Féin staffers are given office space and are eligible for allowances and expenses.
A Commons source said newly elected Sinn Féin MPs "don't tend to come down to parliament" at the start of a session.