Labour leader Jeremy Corbyn is expected to shake-up his top team after confounding expectations, winning 30 extra seats and securing 40% of the popular vote at the general election.
The surprise result denied the Conservatives of a majority in the House of Commons, with Theresa May left wounded and attempting to form an alliance with the Democratic Unionist Party (DUP) in a bid to maintain her minority government on a supply and confidence basis.
The reshuffle is "probably" not coming on Tuesday 13 June, a Labour source told IBTimes UK.
But, with May completing her own reshuffle and the Queen's Speech around the corner, albeit delayed, the new Labour team is likely to be announced by the end of the week.
Corbyn has promised to "reach out" across the broad church of the Labour Parliamentary Party. It comes after a group of MPs voted 172-40 for a "no confidence" motion against the left-winger last year.
"Ever since I became leader I reached out and there have been one or two difficulties in the parliamentary Labour Party, but let's put that behind us," Corbyn told the BBC's Andrew Marr on Sunday.
"The issue is the party came together behind a brilliant manifesto...came together for a result that you and nobody else expected."
But bringing talents in from Labour's so called "moderate wing", such as Home Affairs Committee chair Yvette Cooper or London MP Chuka Ummuna, risks upsetting the shadow cabinet ministers that have stuck with Corbyn during the dark times.
Shadow Foreign Secretary Emily Thornberry and Shadow International Trade Secretary Barry Gardiner were Labour's star media performers during the election campaign.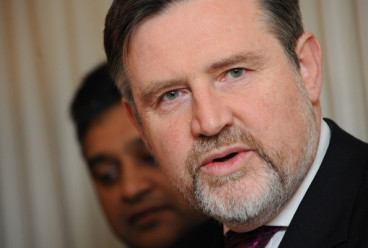 Gardiner now has his own fan base among the Corbynistas, who call him the "People's Gardiner".
The duo could be set for a promotion, while Clive Lewis, the former shadow business secretary and Corbyn ally, is tipped for a return to the front bench. Shadow Chancellor John McDonnell won't be going anywhere.
Elsewhere, there is even talk of former leader Ed Miliband being offered a position on Labour's top team, but the Doncaster North MP has reportedly turned Corbyn down in the past.
Labour stalwart Harriet Harman, meanwhile, has said that she expects little resistance from members of the parliamentary party if they are asked to serve under Corbyn.
"I think he can choose who he wants to have in his shadow cabinet," she told BBC Radio 4's Today programme.
"And I would expect anybody he asks in the PLP would be prepared to serve now because what he's shown is that he can lead us forward at a time when the Conservatives were expecting to make gains." With no leadership challenges in sight, will a vindicated Corbyn reward his allies or seek Labour unity?