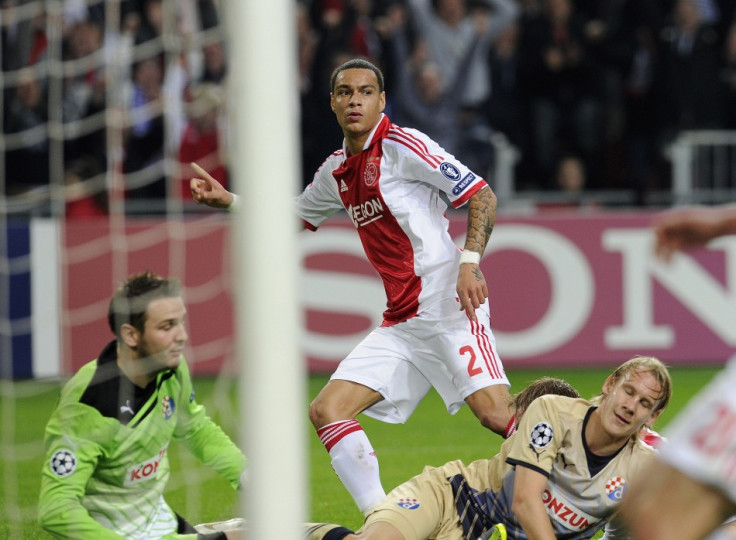 The agent of Ajax defender Gregory Van der Wiel has told the International Business Times that none of the Dutchman's rumoured suitors Manchester United, Arsenal or Chelsea have contacted him, but has admitted a potential move to the Premier League in January would depend entirely on the Eredivisie club's willingness to sell the star asset.
The 23-year-old has been a perpetual target for Arsenal and Chelsea over the last few years in particular, but reports in the aftermath of Holland's 3-0 defeat against Germany on Tuesday night, suggested Manchester United scouts had been in attendance to monitor the highly rated fullback alongside his international teammates Wesley Sneijder and Klaas-Jan Huntelaar.
Despite the player's obvious standing amongst the Premier League's elite clubs, Van der Wiel's agent, Hakim Slimani, told the International Business Times that he was yet to field a single approach from Manchester United, Arsenal, Chelsea or any other club in England.
The player's representative willingly dismissed reports of possible offers as "just rumours", but refused to speculate on Ajax's plans for their valuable asset given the length of time remaining on the Holland international's contract.
"He (Van der Wiel) has a contract for one and half years with Ajax." Slimani informed The International Business Times.
"No. Nobody from England or Holland have contacted me, it is just rumours."
When asked if a move to the Premier League was a distinct possibility in the winter transfer window, Slimani added: "I honestly don't know. Everything will depend on Ajax."
In August, various sources indicated Chelsea were willing to pay their Eredivisie counterparts close to €30 million in order to address Stamford Bridge's perceived problematic right-back position, but the form of Jose Boswinga has since seemed to curtail their interest in the Holland international.
At the back end of last season, when Chelsea's interest in the defender was at its most intense, Van der Wiel suggested an eventual exit from Ajax was a distinct possibility.
Speaking in April, the Holland international told FIFA.com: "I've never left Amsterdam and I don't know what life is like elsewhere,
"It would be a huge challenge [to move] but it ought to work out well - I'm sure of that. I want to win trophies, keep progressing and play at the very highest level."
Whilst Manchester United's interest in Van der Wiel would appear to be a relatively new development, the 23-year-old has long been associated with a move to Arsenal. In the aftermath of the 2010 World Cup and having featured in all five of Holland's games on route to the final, he suggested a move to the Premier League and to the Emirates in particular, would be favourable. He suggested he had discussed the potential of Arsenal with his Netherlands teammate Robin Van Persie.
"Of course it's nice to read that Arsenal are interested," said Van der Wiel.
"I consider myself a good fit for the Premier League.
"Robin van Persie has told me many stories about the Premier League, Arsenal and Mr [Arsene] Wenger. Maybe he can put in a good word for me."
Such is the perennial speculation regarding the rumoured Manchester United, Arsenal and Chelsea target and perhaps more importantly the player's inclination to comment publicly on his desire to leave Ajax, the 23-year-old has occasionally found himself on the wrong end of his own supporters.
Such was the apparent dissatisfaction towards the defender, Holland coach Bert van Marwijk actually intervened after Van der Wiel was afforded a hostile reception by a small section of the Amsterdam Arena in early October.
"People should not underestimate how much impact negative and cynical applause from your own fans can make," Van Marwijk told De Telegraaf.
"You could say that as a player he should ignore it. But that's not easy."
Speculation regarding Van der Wiel's future is likely to remain rife during the January transfer window, and although he is contracted to the Holland club until the summer of 2013, his credited admirers will be buoyed by a lack of news in regards to an extension.
The Holland international's exit has long been anticipated by both the club and the player, and although Chelsea were reportedly willing to spend in excess of £25 million during the summer, Ajax would perhaps struggle to command that fee again.
Recent reports have suggested a fee in the region of £12 million would be enough to secure the 25 capped international, but thus far the player's agent has confirmed is yet to receive any approaches from his Premier League admirers.