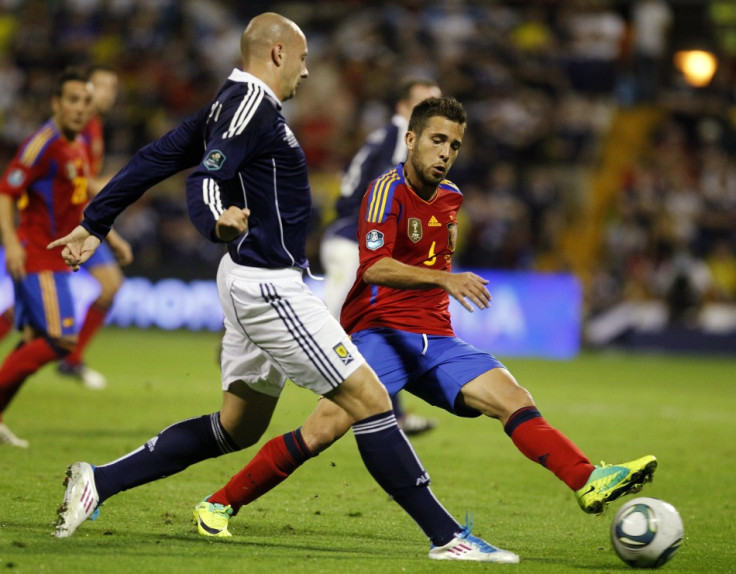 The International Business Times can confirm Manchester United have not made an approach for Valencia defender Jordi Alba, even though the player has been strongly linked with a move to the Premier League champions.
Valencia's supremely talented and rapidly emerging young left-back has been perpetually associated with Manchester United over the last few months, having allegedly been earmarked as the ideal candidate to succeed Patrice Evra at Old Trafford.
Despite the intense speculation, The International Business Times were informed by Alba's agent Vicente Fores that they are yet to receive any official word from Valencia or Manchester United in regards to a potential move to the Premier League.
In an email sent to the IBTimes, a colleague on behalf of Alba's agent Vicente Fores, told The International Business that Valencia are eager to begin negotiations in regards to a new long term contract and are therefore not considering selling the 22-year-old Spaniard.
In his formative years at the Estadio Mestalla, Alba was initially a left-winger, but is now forging his burgeoning reputation as a marauding fullback. His excellent performances in La Liga over the last 18-months led to his inclusion in Spain's squad for their final two European qualifiers, making his debut in the 3-1 victory over Scotland in October.
At the beginning of the week, Alba was asked about the constant speculation regarding Manchester United, but the diminutive youngster insisted his future would be determined by Valencia and his agents.
"I cannot say anything as I am focused on playing well for Valencia," he said.
"My representatives are there to handle everything that happens at a higher level. I am not thinking about these things because I do not know if they are true or not.
"I am very happy here and I only think about maintaining and then improving. Anything else is for my representatives to deal with."
The defender also insisted talk of a pending new contract with the La Liga club had not been confirmed to him officially.
"I have heard these rumours, but I don't know," He said. "All I want is to play and to do as well as I can on the pitch. My representatives and Valencia will speak when the time comes."
The player is currently preparing for Saturday's international friendly against England, but on the eve of the match at Wembley, Alba's agent endeavoured to clarify his client's much talked about future.
The International Business Times were told that Manchester United's interest at this stage was purely speculative, because as of yet there had been no formal confirmation from the English club or Valencia. Furthermore the player is "very comfortable" in Spain, and Valencia are "are not considering selling Jordi" because they wish to "renew" the youngster's contract.