Experts predict the Bank of England will raise interest rates a final time from 5.25% to 5.5%
Initial GDP figures for July show a fall of 0.5 per cent, a worse performance than expected by economists, increasing the fears of a "mild recession".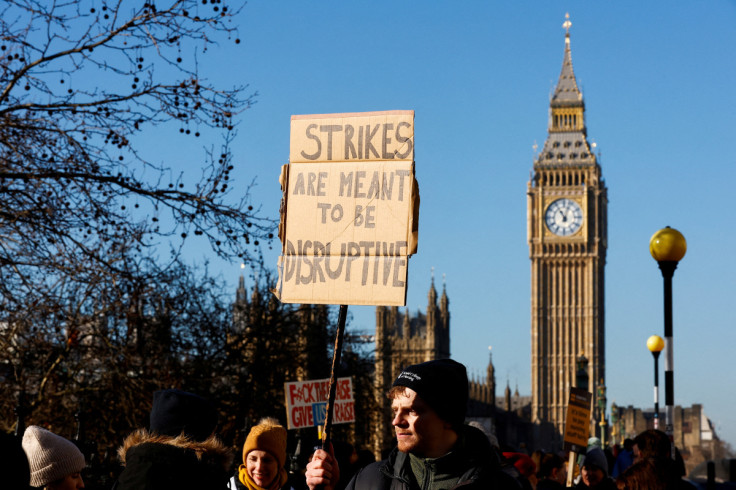 Initial figures from the Office for National Statistics (ONS) indicate that UK GDP has fallen by 0.5 per cent in July compared to the same time last year, performing worse than expert predictions.
Economists had expected a fall of 0.2 per cent.
The ONS produces one of the quickest estimates of GDP among leading economies. It is produced just 40 days after the end of the relevant quarter. As only about 60 per cent of the data is available at this stage, the figure is subject to revision later down the line.
According to the ONS, a major contributor to this drop was the strikes by teachers and NHS workers, the latter specifically comprising junior doctors and radiographers.
Another factor dragging down economic activity was unseasonably rainy weather, with 2023 bringing in the sixth-wettest July on record. The 0.5 per cent uptick seen during a warm June was reversed.
In fact, the economy shrank at the fastest pace in seven months in July.
Paul Dales, chief UK economist at forecaster Capital Economics said that July's economic figures could indicate that a "mild recession" has begun.
He went on to explain that despite this, "with wage growth uncomfortably strong, we suspect the Bank of England will still raise interest rates one final time next week, from 5.25 per cent to 5.5 per cent".
In spite of this, he added that he expected the Bank of England to raise interest rates a final time from 5.25 per cent to 5.5 per cent, in its bid to control inflation.
Inflation recorded a sharp decline from 7.9 per cent in June to 6.8 per cent in July. In fact, with inflation declining and pay rising, July marked the first time in two years that wage growth caught up with increasing prices.
Darren Morgan, director of statistics at the ONS commented on the record rises in pay coupled with reduced inflation, saying: "This means people's real pay is no longer falling."
Chancellor Jeremy Hunt said the latest economic data showed "many reasons to be confident about the future", going on to cite IMF predictions that the UK economy was now on course to grow faster than Germany, France and Italy.
With the UK's inflation rate being the highest in the G7, Hunt doubled down on the government's emphasis on controlling inflation: "Only by halving inflation can we deliver the sustainable growth and pay rises that the country needs."
Government minister Maria Caulfield, however, conceded that the contraction was "disappointing". She went on to stress that this was due to bad weather and services being hit by public sector strikes.
Labour Shadow Chancellor Rachel Reeves was scathing in her assessment, commenting: "Today is another dismal day for growth, and the British economy remains hostage to the Conservatives' low growth trap that is leaving working people worse off."
Reeves went on to say: "After 13 years of instability, the Conservatives have left the British economy weaker and families having to cope with higher taxes, higher mortgages and higher food and energy bills."
One factor that the ONS, the government and even the opposition seem to be silent on is Brexit.
Research shows that Brexit has already contributed to Britain's especially high inflation by straining the country's most important trading relationship, and hitting the value of the pound, which has made imports more pricey.
A recent study by the London School of Economics concluded that Brexit was responsible for approximately a third of UK food price inflation since 2019, adding nearly £7 billion to Britain's grocery bill.
© Copyright IBTimes 2023. All rights reserved.