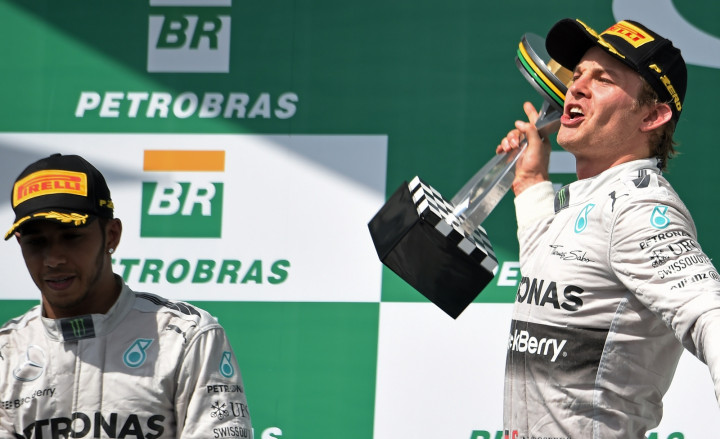 Nico Rosberg will be on "full attack" in pursuit of a maiden world drivers' title as he looks to overhaul Mercedes teammate and championship leader Lewis Hamilton with double points on offer in Abu Dhabi this weekend.
Rosberg trails Hamilton by 17 points going into the final race of the season and realistically knows only a sixth win of the year will give him any chance of denying the 2008 champion.
Therefore, the 29-year-old admits that throwing caution to the wind this weekend in pursuit of Hamilton is his only option should he have ambitions of winning a first ever drivers' championship.
"The gap is smaller than before and I absolutely believe I still have the chance to take the title in Abu Dhabi. It won't be easy, but I'll be full attack - just as I have been all season," Rosberg said.
"Although this has been my first year fighting for a World Championship, I've never felt more comfortable than I have done this year.
"The team behind us have done an incredible job and it's great that they've given both of us equal opportunity to compete with each other.
"There have been difficult moments just as there have been amazing moments - but this is what Formula 1 is all about and I hope that everyone watching at home has enjoyed the story of this battle as much as I have.
"Win or lose, double points or no double points, I feel proud of what I have achieved this year and especially proud to have been a part of this fantastic season for the Silver Arrows. I go into this race with no fear and with every belief that this can be my title. It's not over until that flag drops!"
Five successive wins in Italy, Singapore, Japan, Russia and the United States have seen Hamilton take a tight grip of the title while also overtaking Nigel Mansell with the most race victories by a British driver.
Having failed to contest for the title since his win in 2008 during his final years with McLaren and in his first season with Mercedes in 2013, Hamilton is unwilling to allow his opportunity to land a second championship slip through his fingers.
"People talk about how long it's been since I won the title - but I honestly feel like I'm fighting for my first World Championship all over again," the 29-year-old added.
"Sure, I'm older and maybe a little bit wiser than I was back then. I've learnt a lot in the years since 2008 - but I'm still the same driver. I still have the same hunger, the same will to win, and I've been giving it everything I've got from the word go this season. I've had ups and downs along the way - but I've never once given up.
"I've managed to fight my way back from whatever has come my way and my approach doesn't change for this race."