F1 2015: Lewis Hamilton credits 'mega work-life balance' for blistering form this season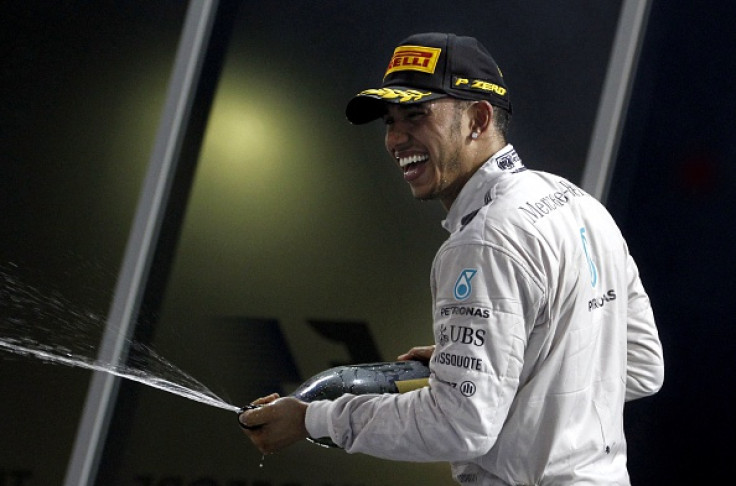 Reigning F1 world champion Lewis Hamilton has revealed the reason for his blistering form this season. The Briton has dominated the 2015 F1 season winning eight out of the 15 races thus far, while also capturing 12 pole positions. The Mercedes driver leads the Divers' championship by 48 points from teammate Nico Rosberg, and feels that his 'mega work-life balance' is the reason for his imperious form.
Hamilton cruised to his eighth victory of the season in Japan on Sunday 27 September and apart from racing, the 2008 World Champion has been spotted at various celebrity events across the world. Hamilton was spotted with a bevy of beauties either at a Fashion Week in New York or the Kadooment Day Parade in the Barbados with Rihanna.
However, despite all the attention off the track, the former McLaren ace has admitted that his focus remains on winning a third world title and his second consecutive one with the Mercedes team. He is aware that there are a few drivers, who are looking to upstage him every weekend, while admitting that he is surprised at his ability to perform at such a high level every weekend.
"Every weekend I've got to perform because every weekend is another chance for the others to get one on me, or get more points than me. I've got to bring my A-game every time, and I'm surprising myself how I'm bringing it each weekend," Hamilton said, as quoted by the Daily Mail.
"I'm having lots of fun outside the car and when I get in it I'm driving better than ever. It's hard to get the balance of life but I've got a mega balance now. It's awesome and it couldn't be better. I'm having the most fun outside and the most fun inside."
Hamilton also made it clear that he is aware about where to draw the line when it comes to parties on a race weekend, and admitted that despite his active social life he does make sacrifices and makes sure that he never 'over steps the line'.
"When I got to Tokyo I got a group message from Jenson and those guys to go out to party, but I didn't because I'm still massively focused," Hamilton added.
"Even in Singapore a lot of people went out, but I was going to bed at 6am, so I'm still making the sacrifices. I had loads of friends in town so I could have gone out and partied, but I was in bed early."
"I'm enjoying it more on the outside and seeing the fruits of my labour inside. I'm still putting in the work and the training. I never feel like I'm overstepping the line," the 2008 F1 World Champion explained.
© Copyright IBTimes 2023. All rights reserved.