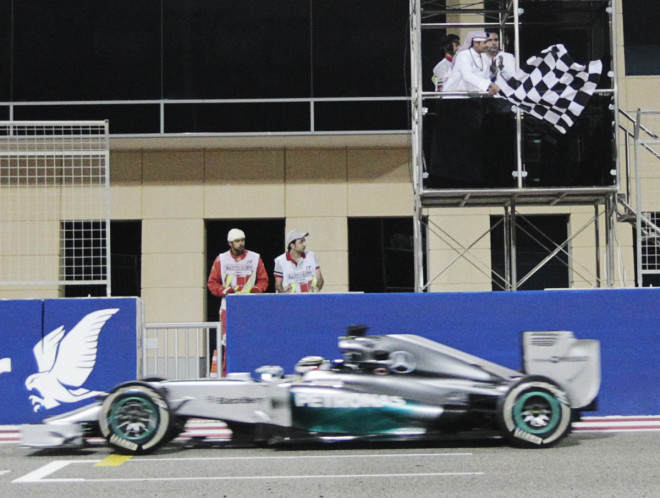 Lewis Hamilton has claimed victory in the Bahrain Formula One Grand Prix with Mercedes taking out first and second thanks to the Brit and teammate Nico Rosberg.
While Rosberg had pole position in the lead-up to the race Hamilton quickly asserted himself at the head of the pack. The final laps saw a nail-biting fight between the two for first place, with the pair changing spots on a number of occasions, but Hamilton came out on top to seal his second victory of the year.
Hamilton is now second-placed in the standings behind Rosberg with 50 and 61 points respectively. In what is shaping up to be a tough duel between the teammates a number of performances on the day in Bahrain also received special mention.
Sergio Perez finished third with Force India and sealed their second podium finish in the team's history. It will no doubt be a huge boost for the Mexican who drove with perfect precision over the entire weekend.
Daniel Ricciardo continued to show potential for a big future with Red Bull as the Australian started in 13th position and ended in fourth, looking likely to pressure Perez if the race had continued. He kept teammate Sebastian Vettel in fifth place in the final laps and has proven to be a revelation so far this season, with the current Champion eventually ending the race in sixth place behind Force India's Nico Hulkenberg.
Rosberg admitted to BBC Sport that he hated losing to Hamilton but insisted that the race was one of the toughest of his career to date.
"I strongly dislike coming second to Lewis, I have to say that but it was definitely the most exciting race I have ever raced in my whole career," he said. "I think today was a day for the sport, we put on a fantastic show and I will be back to win here next season."
With the crowd cheering him on, Hamilton, who looks a good chance of contend for the Championship on the back of today's performance, added: "It's great to see that we have such a great following here, I am so grateful to the team for getting us up here and this is my first win here in Bahrain which is nice.
"It was really exciting, Nico drove fantastically well, it was so fair but it was so hard to keep him behind me, I was on a real knife edge at the end but just managed to take it."